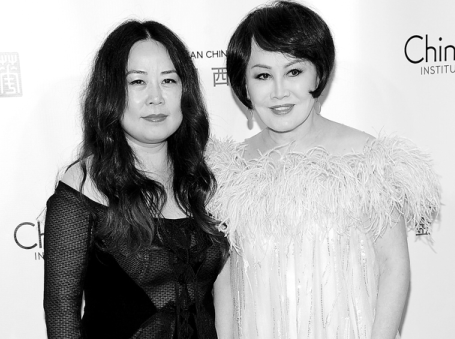 Grace Chen (left) and Yue-Sai Kan at the 2018 China Fashion Gala at the Plaza Hotel in New York City on May 4. [China Daily]
Being fashionable is not about how many couture designers a society has but about how its people dress, China's star couturier tells Zhang Ruinan in New York
Twenty years ago Grace Chen became the first student from the Chinese mainland to study fashion design in New York's Fashion Institute of Technology.
"But starting from 2005, about 10 years after my graduation, more and more Chinese students have come to study fashion design in the US," said the Beijing-born couturier who established her couture brand under her name in Shanghai in 2009. "They've slowly gone back to China to establish their own brands, so now they are getting attention."
"In Shanghai, or in Beijing or Guangzhou, we have this new generation of Chinese fashion designers... Of course, they are not mature yet, but it's (a work) in progress," Chen said. "In five to 10 years, China will have its own modern fashion identity."
Chen may have studied and worked in the United States, but in China she has been exploring the modern Chinese style for years. She said that when people are asked to describe Chinese style, they usually think back hundreds or maybe thousands of years.
But what's the modern Chinese image? This is a question that the designer frequently asks herself.
"That's also why I decided to come back to China after working for 15 years in the US fashion industry in New York and Los Angeles," Chen said during an interview before her first show at the third annual China Fashion Show at the Plaza Hotel in New York City last month. "I've always wanted to have my own brand, a brand that can represent China's fashion."
Combining her understanding of Chinese culture with Western fashion design, Chen's brand has earned international recognition. Called "The Power Dresser for Modern Women", Chen describes her designs as "timeless" with a modern appeal of style, a luxury appeal of traditional couture and a hint of Chinese culture.
Chen's New York debut show featured a mix of her current "Modern Times" collection, a few pieces called "Manhattan Skyline" specially designed for the show, and some classic pieces from her older collections. The dresses can cost anything between $3,000 and $6,000.
"I'm not just making clothes for my clients, I'm helping them to change their spirit and lifestyle," Chen said. Although Chen said she does not design for a particular type of women, her dresses represent an image of the woman who is independent, professional, active and modern.
Chen's clientele list ranges from entertainment celebrities to businesswomen and politicians.
"Between the Chinese customers and the global luxury brands, there is something missing: mutual understanding," Chen said. "That's our value. We understand their body shape, complexion, their needs for appearance, for their social and inner needs... That's why they call us, 'the designer who knows women the best'. It all comes from our customers. They gave us the reputation."
With her international runways and shows for royals and elites — including those at the Chinese embassy in Paris and London's Lancaster House in 2016, which were attended by descendants of Russian and British royalty — Chen has been described as an ambassador of Chinese fashion. She is the first Chinese couturier to host a commercial trunk show in Paris, and she participated as an "Outstanding Entrepreneur" in the sixth US-China Consultation on People-to-People Exchange in Washington.
Chen said that through putting on shows around the world, she hopes to improve people's understanding of modern Chinese women. "Many people, even though they've been to China many times or they lived in China for many years, still don't get it," she explained. "But from one fashion show, they see it. The reason is that we have the ability to translate our view on fashion and Chinese culture into a common language that everyone can understand."
When asked about how she was able to successfully establish a new fashion label and get recognition, Chen said: "I was rewarded by my past, I was the first graduate at the FIT and I worked with many famous Hollywood stars when I lived in the US ... They introduced many high-end clients when I started my own brand in China."
She worked for Halston in New York and Tadashi Shoji in Los Angeles, where she designed for stars such as Oprah Winfrey and Helen Mirren. Chen said timing, too, is vital. Chinese luxury consumers used to have a reputation for favoring Western luxury labels like Gucci, Chanel and Prada, but now the trend has started to change.
"Our brand is really at the right moment — it's about the first generation of luxury brand customers in China who are starting to want something new and something for themselves," Chen said. "They are tired of big names and want something that can really present themselves, their Chinese background."
Chen said that given a long history of craftsmanship, luxury is in Chinese people's DNA. "Chinese people are used to having very fine, nicely made objects, it's in our blood." Her utmost hope is that China, as a country, can be perceived as a fashionable country in the future. "When you look at a society (to see) if they're fashionable or not, you're not looking at how many designers they have, you're looking at how people are wearing things," Chen said. "In order for China to have this global influence in fashion, Chinese people have to look really nice, really stylish."
"That's why Uniqlo, Issey Miyake, Yohji Yamamoto or Comme des Garcons, all of these brands have their own global influence, it's because people respect Japanese (designers) as they see (Japan) as a stylish country," Chen said. "We have to do the same thing. It's the same for everyone, like the Americans did in the '70s and '80s. You have to have a spirit, a philosophy behind it, (it is) not just about how many designers you have or how many fashion awards you won."
(Source: China Daily)