Chairman Mao's Mourning
Mao mourned the death of Yang for the rest of his life. His great pain of losing her could be seen from a poem he wrote to Yang's classmate Li Shuyi, who also lost her partner Liu Zhixun. This is an excerpt of the poem (translation by Schram):
I lost my proud poplar, and you your willow,
Poplar and willow soar lightly to the heaven of heavens.
Wu Kang, asked what he has to offer,
Presents them respectfully with cassia wine.
The lonely goddess in the moon spreads her ample sleeves
To dance for these faithful souls in the endless sky.
Of a sudden comes word of the tiger's defeat on earth,
And they break into tears of torrential rain.
The allusion to poplar trees is a reference to Yang, whose surname meant "poplar" in Chinese, while that to willows alludes to Liu's surname, which meant "willow".
Mao Xinyu (R), grandson of Mao Zedong, visits Yang's grave. [Women Voice]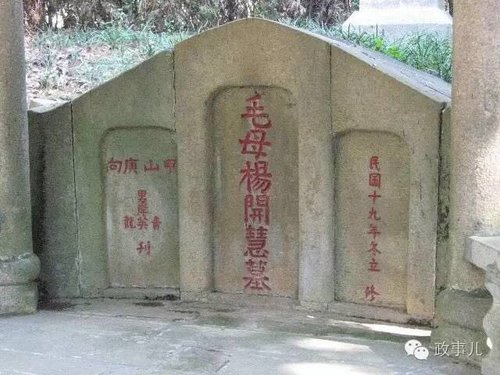 Yang Kaihui's grave [Women Voice]
(Source: Women Voice/Translated and edited by Women of China)
Please understand that womenofchina.cn,a non-profit, information-communication website, cannot reach every writer before using articles and images. For copyright issues, please contact us by emailing: website@womenofchina.cn. The articles published and opinions expressed on this website represent the opinions of writers and are not necessarily shared by womenofchina.cn.