As one of the first few Chinese students of her time to be educated at Oxford and Cambridge, Zeng Baosun was a pioneer in most aspects of her life, especially in her chosen field of education. While she never got married, she was also never lonely, as she was constantly surrounded by the students which she devoted her life to.

Not only was she the principal of the Yifang Women's Collegiate School, but she was also in charge of another girl's high school and women's normal school. She has earned her place in history as a great benefactress to Chinese women's education.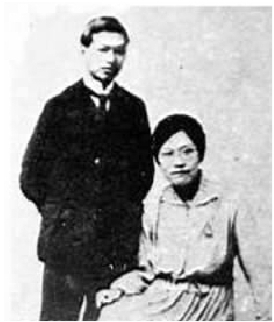 Zeng Baosun (R) and her brother Zeng Yuenong are seen in this undated old picture. Zeng Baosun was the founder of the Yifang Girls' Collegiate School in Changsha, capital city of south China's Hunan Province. [voc.com.cn]


Early Life

Zeng was born into a prominent and progressive family in south China's Hunan Province in 1893. The family could trace its lineage back to Zeng Guofan, a famous senior general in the mid-19th century.

Zeng began her education early, at the age of 4. Unlike most families at the time, who insisted their children study Chinese classic texts in order to pass the state exams and become government officials, Zeng's grandmother encouraged her to study Western culture.

Zeng's father was a reformist who was also open minded. He did not follow the common practice of binding his daughter's feet or arranging for an early marriage for her.

Living in such a family allowed Zeng plenty of room to develop her own interests. She loved reading novels and books of Chinese mythology.

When she was 14 years old, she was sent to Shanghai to study at a girls' school. Later, she was accepted into the Hangzhou Women's Normal School. In 1910, she began to study at an Anglican Church school, the Mary Vaughan High School.

However, Zeng was unhappy about many of the school's practices and she established a newspaper to publish her opinions and views on them. Louise Barnes, the British principal of the school, came to know about the newspaper. Instead of being angry, Barnes invited Zeng to her office to have a talk, which led to a close relationship between the two.

In 1911, Zeng converted to Christianity and was baptized at the school.

When Barnes returned to England for a vacation in 1912, she invited Zeng to go with her to study there. She wrote to Zeng's parents for permission and Zeng's grandmother agreed on condition that Barnes would bring Zeng back to China when Barnes returned.

In September 1912, Zeng began to study English at Blackheath High School in London and was admitted by Westfield College at the University of London one year later. There she studied science, botany, chemistry and math.

Barnes decided to stay in England until Zeng completed her studies at college, although she would lose her pension from the church by doing so.

Zeng graduated with a Bachelor of Science in 1916, making her the first Chinese woman to obtain the degree.

Later, she decided to establish a woman's school in China. So she took a teacher's training course at Oxford and Cambridge for another year. During the training, Barnes helped her raise funds for her future school.

Establishing a School

In 1917, Zeng returned to China along with Barnes. She decided to establish a women's school based on new concepts, combining the best ideas of the West and China.

In September 1918, her school, the Yifang Girls' Collegiate School, finally opened for enrollment in Changsha, capital city of Hunan Province. Zeng became principal of the school and taught biology there, while Barnes taught English.

The school was unique in having a student-faculty association that governed the affairs of the school. All the school expenses were open to the students to see. The school never expelled students and teachers resolved any problems with students in private.

Zeng was also active in wider education circles. She was president of the Government Normal School for Girls in Changsha and principal of the Hunan Provincial Second Middle School. She was often invited to deliver speeches in venues across China and attended four international academic meetings.

When the Japanese troops invaded China in 1937, Changsha was attacked by the Japanese air force. Zeng fled to Hong Kong, but she returned to Changsha to re-establish the Yifang Girls' Collegiate School after 1945.

Later, at the invitation of Soong May-ling, wife of Chiang Kai-shek, the late leader of China's Nationalist Party, she moved to Taiwan.

In 1971, Zeng decided to donate several boxes of original documents and paintings belonging to Zeng Guofang to the National Palace Museum.

On July 27, 1978, Zeng died in Taiwan at the age of 85.

(Source: Women of China Overseas Edition and china.com.cn/Translated and edited by womenofchina.cn)
Please understand that womenofchina.cn,a non-profit, information-communication website, cannot reach every writer before using articles and images. For copyright issues, please contact us by emailing: website@womenofchina.cn. The articles published and opinions expressed on this website represent the opinions of writers and are not necessarily shared by womenofchina.cn.