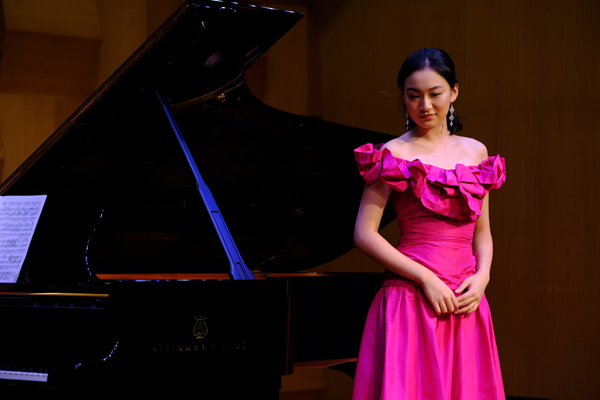 Chinese-American Chelsea Guo is giving a series of solo recitals, with both piano playing and vocal performances in Shenzhen and Tianjin. [China Daily]
For her third birthday, Chelsea Guo received a CD and a DVD of the film, The Sound of Music, as a gift from a friend of her mother. It wasn't long before the little girl became infatuated with the 1965 film-which was adapted from the 1959 Broadway musical of the same title-watching the DVD every day and listening to the CD in her parents' car whenever they would have to drive somewhere. She even played out the roles and sang the songs for fun at home.
"I was fascinated by it," recalls Guo. "I can sing every single song in the film. Music is the most natural way of expression. When the characters are excited, they sing. When they are sad, they sing."
Guo, now 17, has become a professional musician, currently as a double major student-piano and vocal-in the pre-college division of The Juilliard School in New York.
"I can still remember how I got inspired by the film. When I want to express myself beyond words, I have music," she says.
From November 15 to Sunday, the Chinese-American pianist, who was born in New York, is giving a series of solo recitals with both piano playing and vocal performances at the Tianjin Concert Hall and performing as a guest artist at the Sixth Shenzhen Piano Music Festival.
As a pianist and vocalist, she has chosen the repertories for her recitals, including Schubert's Impromptu Op 90 D899 and Je Veux Vivre from the five-act opera Romeo et Juliette composed by Charles Gounod.
"The pieces I selected for the shows in China sound very entertaining, which I've heard and played from a young age," Guo says.
One of the pieces, she says, is Chopin's Piano Sonata No 2, which Guo describes as being different from the composer's other work.
"The piece is dramatic, tragic and personal, which is unlike much of the composer's beautiful and lovely work. I visualize the four movements as fights between good and evil, between life and death," Guo says, adding that she relates the piece to a video she watched on social media that documented patients suffering from mental illness.
It's not the first time that Guo has performed in China. She made her debut here at age 9, playing Mozart's Piano Concerto No 23 with the Tianjin Symphony Orchestra under the baton of conductor Cao Ding. The young musician has also become interested in Chinese music, such as the jazz music of the 1930s and songs of the late pop diva, Teresa Teng.
As a young scholar of the Lang Lang International Music Foundation (2016-18), Guo has also participated in joint recitals at Carnegie's Weill Hall.
"Sometimes a slow, romantic movement can prove a tougher challenge for young musicians than quick, upbeat ones, since mastery of rubato usually requires years of experience to nurture and blossom. Fifteen-year-old Chelsea Guo, from Juilliard's pre-college division, seemed right at home in the second movement larghetto from Chopin's Concerto No 2. She negotiated Chopin's arabesques with unforced elegance, displaying a genuine gift for lyrical finesse," wrote Michael Cameron for Chicago Music Report at a concert, which was a collaboration between the Midwest Young Artists Conservatory and the Lang Lang International Music Foundation.
According to Guo's mother, He Jing, who, along with her husband, furthered their graduate studies in the United States during the 1990s and later immigrated there, her daughter showed passion for music at an early age.
"When she was 2 years old, she passed by a music store and was curious about the instruments," He says. "I bought her a ukulele because it was the smallest instrument in the store and she played at home every day."
She adds that Guo was 5 years old when she took her first piano class.
He also plays the violin and piano.
She admits that she didn't expect her daughter to become a professional musician until Guo started winning major competitions, including being awarded the "special commendation for young talent" at the Ettlingen International Piano Competition in Germany in 2012.
In May, Chelsea was invited to give recitals at Wigmore Hall in London and Howard Assembly Room, Leeds, as part of the first Leeds Piano Festival. Part of the project in Britain was community outreach, Guo says, which saw her perform for a group suffering from dementia. After she played, an elderly man approached her and said that he wouldn't remember her name the next day, but he would remember that he had a joyful day listening to her beautiful piano music.
"This experience also led me to think about why music is so powerful," Guo says. "I have traveled around the world, playing and studying, and it's the impact of the music I channel that always astounds me. It can cause tears by tugging the heartstrings, smiles of healing, looks of far-off nostalgia, gleaming eyes of inspiration — this is what makes my aspiration worth the effort."
(Source: China Daily)