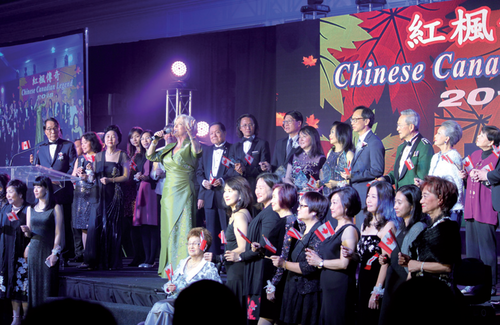 Canadian performer Ruth Ann Onley (center), along with organizers and recipients of the 2018 Chinese Canadian Legend Awards, gather at the awards gala on Nov 17 in Richmond Hill. [China Daily/Na Li]
When Ruth Ann Onley, wife of former Ontario lieutenant governor David Onley, sang We Are the People of the Maple Leaf, a patriotic anthem written by her husband, the melody brought the Chinese Canadian Legend Awards event to an unforgettable grand finale.
Six recipients were presented with the 2018 awards, organized by the Asian Business Network Association (ABNA), on Nov 17 in Richmond Hill. The year's theme was "You & Me – Let's Make Legends together".
The awardees included Gabriel Chan, a doctor specializing in geriatrics who implemented a large number of healthcare programs for elderly patients and was appointed by the Ontario government as co-chair of specialized geriatric services for the Local Health Integration Network; Angela Cheung, a doctor who established the world-renowned University of Toronto Center for Excellence in Skeletal Health Assessment and holds a Tier 1 Canadian Research Chair in musculoskeletal and postmenopausal health; Susan Wong, 94, who was devastated by her husband's death in 1999 and later resolved to fulfill his philanthropic desire to contribute to the community; Yuen Pao Woo, the former president and CEO of the Asia Pacific Foundation of Canada and former president of the Vancouver Headquarters Promotion Bureau, who was appointed by the Canadian prime minister as a senator in 2016; Irwin Li, who immigrated to Canada with his parents from Shanghai in the 1990s and helped raise more than C$1million for the Toronto Sick Kids Hospital Foundation; and Winnie Yu, known as the "charity line dance queen" by her students, who has been nominated by various agencies and received the annual volunteer award from the Ontario government six times.
Alexandra Ngan, co-chair of the organizing committee, said the life stories of this year's recipients are all different but equally brilliant.
"Their lives have not always been smooth after they immigrated to Canada. They encountered difficulties, but they persevered in the face of difficulties," Ngan said. "Their generous and outstanding contribution to society is from the heart. It is a motivation and an inspiration to the community," she said, adding that the recipients over the years not only are role models in the Chinese community, but also have an impact on mainstream society.
"For the past 19 years, we have always hoped that through the award we can recognize those Chinese Canadians who work hard to contribute to the community," said Bammy Wong, president of the ABNA. "We want to document their tremendous efforts, their challenges and successes for history so that the stories of this generation can be passed on forever."
The awards event has been held since 2000, honoring a total of 118 individuals.
(Source: China Daily)