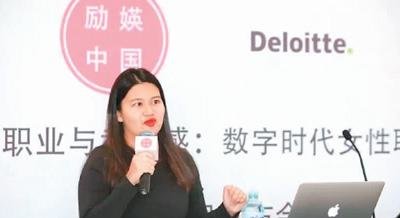 Chen Yuxin [chinaqw.com]

Virgina Tan, who was born in Singapore, moved to China five years ago to start up her own business, Lean in Beijing, which is also the first platform for women's development.
Majoring in law, Tan graduated from King's College London. She worked as a financial lawyer for 10 years in two of the world's top law firms.
So, looking back at her working experiences, there was no connection with starting up her own business.
"Before I came to China, I never thought about starting a business," Tan said.
However, a change came in 2013 when Tan came to Beijing as a representative lawyer of a foreign company to communicate with Chinese enterprises on issues around the Belt and Road Initiative.

At that time, she was deeply affected by the business atmosphere and entrepreneurial dynamics, which also motivated her idea to start up a business in China.
In May of 2013, she set up Lean In Beijing with her friends. It was the first community for Chinese women's professional development in Beijing, with the meaning of moving forward.
The community, which was first launched by 10 women, aims at encouraging women to do better in the workplaces by sharing their experiences to help women overcome their difficulties and make progress in their career.
Confronted with the question of whether her career path was filled with difficulties, Chen said: "It's maybe different from what you expect, as a professional woman, everything went well for me."
"My father is an open-minded man, and never had the idea of giving a son preference, so he told me women should be brave, smart, and ambitious in order to do anything they want, since I was young," Tan added.
Her father's support affected her.
When talking about the incipient company, Tan recalled: "At that time, we discussed how to transform and get a better salary with my boss."
Furthermore, there are more and more mutually-beneficial communities, like Lean In, which help women, especially young women who have just entered the workplace.
Through the platform, these women have become more confident and have wider social circles.
However, during the process of starting up a business, Tan still faced many difficulties and hardships.
Entrepreneurs need to focus on the environment, the strategies, teams, and building relationships.
Meanwhile, she also needed to get familiar with national conditions and adapt to different business models, which are all challenges for Tan, who has been living and working overseas.
In 2015, Tan, in cooperation with several media companies and investment funds, launched the campaign of She Loves Tech, which has become one of the largest female technology entrepreneurship competitions in the world and has created opportunities for women with the strength of science and technology.
In 2016, with the development of the Lean In Community, Tan launched a public-welfare project, which has trained a batch of outstanding leaders of female graduates, through training, practice, tutors, and mutual-assistance.
Meanwhile, Tan's women's impact investment fund will also be launched in September this year, when more research and innovation projects for women will be launched.
(Source: chinaqw.com/Translated and edited by Women of China)