Britain's Queen Elizabeth waves to the audience during a special concert to celebrate her 92nd birthday at the Royal Albert Hall in London, on Saturday. [Photo/Agencies]
Star-studded Concert Held in Aid of UK Monarch's New Youth Charity
Britain's Queen Elizabeth attended a star-studded special concert on Saturday as the world's oldest and longest-reigning living monarch celebrated her 92nd birthday.
Welsh singer Tom Jones kicked off the show with his hit It's Not Unusual shortly before Elizabeth appeared in the royal box of London's Albert Hall, flanked by her family.
Kylie Minogue, Sting, Ladysmith Black Mambazo and Shaggy were among those on the bill, along with stars of the stage and screen.
At the end of the night Elizabeth joined the stage with her son, Prince Charles. He joked that she could not have predicted in 1948, when Charles was born, decades later a 92-year-old queen would be sharing a stage with her 70-year-old son.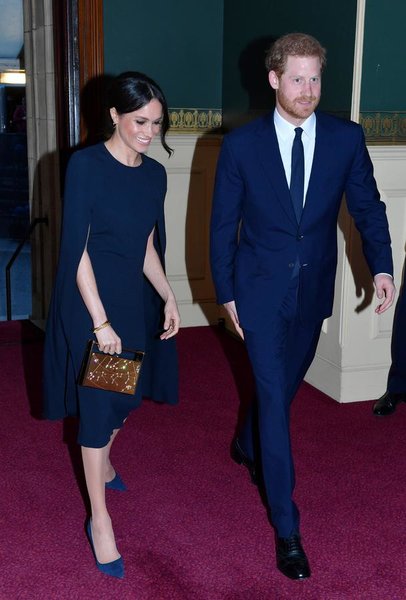 Britain's Prince Harry and Meghan Markle arrive for a special concert "The Queen's Birthday Party" to celebrate the 92nd birthday of Britain's Queen Elizabeth at the Royal Albert Hall in London, Britain April 21, 2018. [Photo/Agencies]
Charles then led a round of cheers from members of the audience. The queen acknowledged them with a smile and her trademark royal wave.
Her grandsons Prince William and Prince Harry, accompanied by his fiancee Meghan Markle, also watched performances by stars from around the Commonwealth.
Elizabeth's real birthday this year came on the tails of the Commonwealth Heads of Government meeting, which brought the leaders of the 53 Commonwealth countries together in England.
The queen usually celebrates her birthday in private, saving the pomp for her official birthday in June, but the concert was held in aid of a new youth charity, The Queen's Commonwealth Trust.
"This organisation in your name will provide a platform for those working to make a difference in their communities across 53 countries. Your Majesty, Happy Birthday," said Harry, who will be president of the trust.
Overshadow
Howerver, the summit was overshadowed a little by a row over Britain's treatment of Caribbean immigrants, while Charles himself also came under scrutiny.
A non-white writer, Anita Sethi, claimed he joked about whether she was really from the British city of Manchester when they met at a Commonwealth meeting this week.
Sethi - whose mother was born in Guyana - said Charles asked her where she was from and when she replied, said: "Well, you don't look like it!" and laughed.
She wrote in The Guardian that she felt humiliated and angry, adding that "some people, including the prince, urgently need a history lesson about immigration".
The queen has been the symbolic head of the Commonwealth since her father king George VI's death in 1952, but its leaders agreed on Friday that Prince Charles would eventually succeed her.
As is customary with monarch's birthdays, soldiers from the King's Troop Royal Horse Artillery and the Honourable Artillery Company fired gun salutes in London's Hyde Park and the Tower of London earlier on Saturday.
(Source: China Daily)