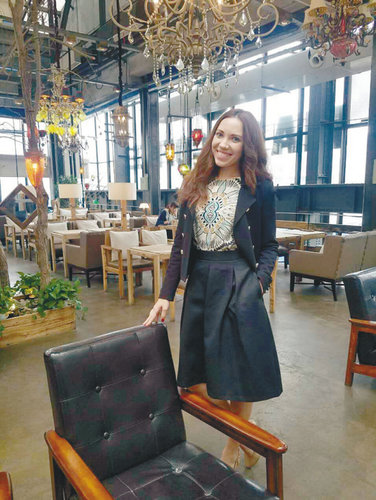 Nataliya, a young Russian woman who studies at Shenyang Ligong University in northeast China's Liaoning Province, poses for a picture at modern restaurant. [Shenyang Daily]
A young postgraduate student from Russia has been enjoying her life at a university in Shenyang, capital of northeast China's Liaoning Province, and recently said that after graduating she hopes to remain in the city to look for work.
The woman, called Nataliya, said she initially made the trip to Shenyang five years ago to take part in a summer camp. Upon arriving, she said she fell in love with its culture and lifestyle. After returning to Russia, she chose to learn Chinese at university, hoping to receive education in the foreign country in the future.
In 2013, Nataliya began studying in Shenyang as a postgraduate. She maintained that many changes had taken place in the city when she came back. "The local people are rather enthusiastic and they always help point out the way when I am lost on the street," Nataliya said.
Meanwhile, she stated that all of her teachers and students were very kind whilst patiently teaching her Chinese.
Apart from attending courses, she also actively participates in campus singing contests, Chinese bridge competitions and public welfare events in her spare time.
Due to her excellent performance during the online Chinese Bridge competition held on October 7, she has successfully entered the final match among the five overseas students from Shenyang. "It gives me much confidence in learning Chinese," she said with excitement.
Moreover, she commented that one of her favorite activities was the school sports meeting. "From the first year I came here, I have always participated in the 100m and 200m running races. And, I have also won first or second place among all competitors," Nataliya concluded.
In addition, she also helped the International Academy of the university win the school sports meeting. "I have a small goal in my heart to contribute myself to lead the academy to carry off the championship. Therefore, I organized my classmates to take exercises at the playground every day before the opening. I am so happy," she explained.
At the same time, Nataliya positively attended the school's club activities including street dancing and a vocal music course. "I have a good time here and I hope to continue my later life after finding a job related to translation or foreign trade work," she stated.
(Source: Shenyang Daily/Translated and edited by Women of China)