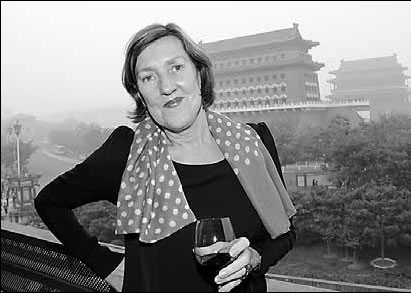 Australian restaurateur gains fame on the mainland doing things by the book, but can't reopen her original restaurant in Hong Kong. [chinadaily.com.cn]
Michelle Garnaut's capital restaurant is a hit now, but the Beijing winter and the prime location's cost made it a challenge to launch. [chinadaily.com.cn]
Renowned restaurateur Michelle Garnaut operates two of the classiest restaurants on the Chinese mainland, known for immaculate service, fine-dining cuisine and tasteful decor. The repertoire of the M Restaurants in Beijing and Shanghai now also includes a hugely popular literary festival and other cultural events throughout the year.

But one of Garnaut's primary goals - to open a restaurant in Hong Kong - is proving to be the toughest and most frustrating challenge of her career. The Australian's first venture, M at the Fringe, closed two years ago after 20 years in operation. To date, another venue at the right rental price has proven to be mission impossible.

The restaurateur claims to have inspected hundreds of properties over the past few years, none of them quite right. The irony does not escape her: Two thriving operations on the mainland itself but no presence at all in the city where the M Group was founded and flourished.

The runaway success of M at the Fringe, located in a central district heritage building, persuaded Garnaut to take the same concept to Shanghai some 13 years ago. M on the Bund, located in a classic, British-style stone building on the famous riverside promenade, was the first freestanding Western gourmet-level restaurant in the city. It was an immediate hit with the expatriates and, in subsequent years, with newly affluent local Chinese.

"It cost us about $1 million to get Shanghai up and running, which now seems like nothing. But at the time it was one restaurant and that was an enormous amount of money for us."

Garnaut, who hails from Melbourne, is a plain-speaking Aussie with a bone-dry wit and not afraid of using an expletive to emphasize a point. Behind that blunt facade is a keen intellect: Garnaut studied English literature at university and still reads voraciously, attends classical music concerts on her days off and ensures that the M restaurants in China have a strong cultural element.

The most high profile of these is the annual literary festival, which began when an author pal came to give a talk on how to mix the perfect martini. It ultimately grew to become the pre-eminent event of its kind in China. This year, 70 authors attended, including Alan Hollinghurst, Mohammed Hanif and Tom Rob Smith. Previous participants include Amy Tan, Gore Vidal, Jan Morris, Junot Diaz, John Banville and Louis de Bernieres.

The selection of flown-in writers is always eclectic, penners of books on crime, business, China, sex, pop music, soccer, science, religion, wine and typography - something for everyone who has an interest in the printed word.

"Running the festival is a lot of hard work and it certainly doesn't make money, it costs money," says Garnaut, who also sponsors residency programs for upcoming writers and poets.

"Through it, I have now met an unbelievable number of writers, and through the M restaurants' connection with music, I have met some of the top conductors in the world. The nice thing about running a restaurant is that you generally find people who are usually in a happy situation."

The success of M on the Bund gave Garnaut the confidence to open a second China restaurant, Capital M, in a prime location near Beijing's Tian'anmen Square, which cost almost $3 million to set up.

"Our first winter there was tough," admits Garnaut. "We didn't really allow for the deadness of the winter. The whole city seems to close down.

"We are now into our third year and the increase in business is 30 to 40 percent on last year."

The customers of Capital M know they are not in for any major surprises with the fare. Crispy suckling pig is an M staple, house-smoked salmon and imported steaks are popular and pavlova, an ultra-sweet dessert that hails from the proprietor's home city, is an ever-present.

One Garnaut venture was a failure. The ill-fated Rollo de Pollo opened in Shanghai, on the same premises as M on the Bund, with the aim of selling reasonably priced Western fare. But locals gave it the cold shoulder - preferring to save up for a visit to the real-deal M rather than a budget-priced imitation.

Garnaut takes pride in maintaining an eco-friendly and ethical approach to doing business, a policy which involves putting back into the community via charity. One initiative that makes her swell with pride is the Village People project, set up to build bathhouses in the remote, and desperately poor, communities of Northwest Gansu province. The bathhouses are operated as ongoing concerns; young children and elderly people are admitted free.

"We found it made a really big difference," she says. "M Restaurant funded them for the first five years, and after that, we went and found other sponsors. We set them up as social enterprises where we had real input and real decision-making, and weren't just part of a big organization. It was originally just me and my friends. We wanted to do something that met a real need rather than impose a view."
(Source: chinadaily.com.cn)