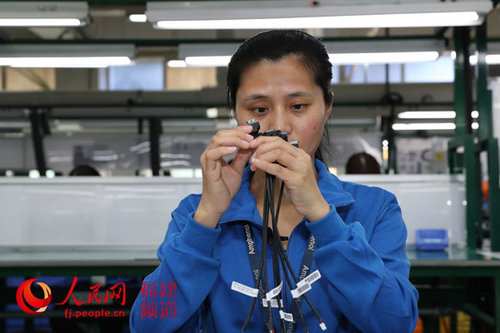 Zhang Junmei works at an electronics factory in Xiamen. [people.cn]
An outstanding assembly worker at an electronics factory in Xiamen, southeast China's Fujian Province, has won many honors in recent years thanks to her persistent efforts in her profession for over a decade.
Zhang Junmei initially engaged in farming after she graduated from junior high school. In 2005, her friends helped her get a job as an assembly worker.
At first, Zhang was inefficient in her work due to her lack of skills. In order to improve her ability, she worked overtime to practice and learn from more experienced colleagues.
After getting married and having a baby, Zhang still persisted in her job and gradually became a backbone worker of the factory.
Moreover, Zhang often shared her own experiences with new employees and inspired them to learn more knowledge.
Influenced by Zhang, other employees gradually developed the good habits of seeking advice from others and working hard.
Zhang said, although she is just a migrant worker, she strives to be the best.
Through decades of hard work, Zhang won the provincial May 1st Labor Medal in 2017.
Zhang said these honors belong to all migrant workers and they can inspire them to make greater efforts.
She also said she will work more earnestly and make great contributions to society in future.
Zhang Junmei, a role model worker of southeast China's Fujian Province [people.cn]
(Source: people.cn/Translated and edited by Women of China)