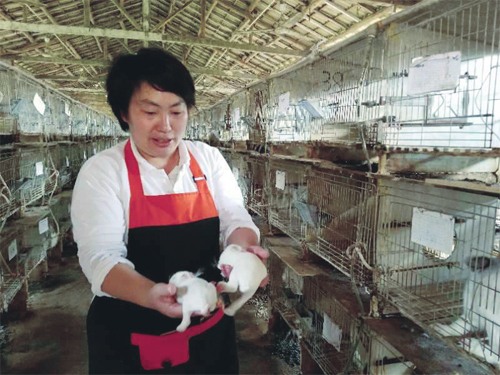 Wen Ying [Cnwomen.cn]
An entrepreneurial rabbit breeder in a county in southwest China's Sichuan Province has been working hard in the past few years to expand her career and lead locals to achieve prosperity.
Wen Ying, 43, who grew up in the countryside, always dreamt of pursuing a life outside her village. Thus, she learned to make clothes and fix zippers and opened her own shop, which made her happy and content.
In 2010, her brother invested 2 million yuan to build a rabbit farm. He invited her to help and gradually she took over the running of the business entirely.
After that, Wen started studying the knowhow of rabbit breeding to further develop the business. She set up the Chenyang Rabbit Professional Cooperative in December 2011 and encouraged more households to participate in the development of the farm.
However, in 2012, dozens of rabbits were stricken by a sudden disease. For the business, it would be a devastating blow.
Facing the crisis, Wen sought help from the Animal Husbandry Bureau in Anyue county. They contacted experts from the Rabbit Research Institute of the Sichuan Academy of Animal Science and Technology. Together, they helped Wen pull through with training and guidance.
In addition, in 2014 the market price of rabbits fell, which led to problems with the turnover. Wen applied for a small guaranteed loan from the county women's federation and raised over 100,000 yuan in subsidies.
In 2015, Anyue Women's Federation exposed Wen to technical training at the Human Resources and Social Security Bureau, and introduced her to customers at a power supply company.
The cooperative has steadily grown from 10 to around 200 households. Each household breeds over 50 mature rabbits.
In 2016, the Sichuan Chenyang Agriculture and Animal Husbandry Science and Technology Co., established by Wen, joined the county's Women's Poverty Alleviation Campaign.
Thus, her company provided rabbits, while the women's federations provided fodder and agricultural tools, and the Human Resources and Social Security Bureau offered technical training, thereby making a concerted effort to help more people in the neighboring villages out of poverty.
Wen also bulldozed her old house and built a 400-square-meter rabbit house to cultivate a large-scale breeding facility and provide rabbits for locals free of charge.
With her efforts, at present, the company's annual output has reached 300,000. Now Wen has been cooperating with several e-commerce companies to meet online demand and sell the processed rabbit meat across the country.
(Source: Cnwomen.cn/ Translated and edited by Women of China)