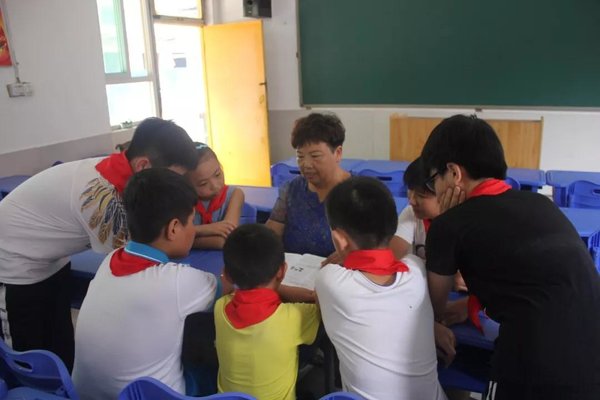 Duan Congying (C) communicates with pupils. [Xinhua]
An entrepreneur from Shijianzhuang, north China's Hebei province, was recently nominated for the title of Online Person of the Year of China by organizers of the Touching Hebei campaign for her ongoing devotion to rural education.
Duan Congying opened her first school for young learners in Shenze, a county in Shijiazhuang, in 1995.
At that time, she had seen that some rural children had to walk a long way to school, which was a tough challenge in the fierce weather. Thus, Duan, the warm-hearted woman, immediately decided to build a school for these children.
She resolutely closed her thriving factory and devoted herself to the construction of the institution. Her first school was completed and put into use within just a few months.
In 2002, a school in the Qiaoxi District of Shijiazhuang went into liquidation, as a consequence, students in the area could not continue with their classes.
After learning about the situation, Duan took over. She recruited a new principal with plenty of management experience at the school, improved the software and hardware facilities, and made many changes.
Now, the school is privately run and has an outstanding teaching quality, unique features and strong school spirit.
"As long as I have any energy left, I will contribute it to the education cause," Duan once said.
As the number of migrant workers increased in the city, the number of so-called "left-behind" children there also increased.
To take care of those children, in 2003, Duan set up a full-time, boarding school in Dingzhou city, Hebei province, which can accommodate over 2,000 students.
Since the school was founded, it has sent 9,680 outstanding graduates to various junior high schools.
Today, Duan has started the construction of a middle school building there with an investment of 100 million yuan, and it is expected to be put into use by 2020.
To address the insufficiency for taking in more senior middle school students in Dingzhou, Duan began her plan to expand the construction of senior high sector.
She expects to invest some 300 million yuan in building a high-standard private high school with a capacity of 5,000 children and devoted all her efforts to the development of the education cause in Dingzhou.
Over the years, she has spared no effort to reduce tuition fees and ease the living costs for students from impoverished families. Moreover, she has spread her love across the country.
When Duan learned that a college student from Shijiazhuang Institute of Information Engineering was suffering from leukemia and his family was extremely impoverished, she rushed to his school and gifted him 10,000 yuan.
On a summer visit to Hainan province, south China, when she found a rural primary school had no fans, nor air conditioning or refrigeration equipment, Duan equipped the whole school with cabinet air conditioning cooler.
Today, Duan is full of passion, and she will continue to devote herself to rural private education, in a hope of creating a brilliant future for children.
(Source: Xinhua/Translated and edited by Women of China)