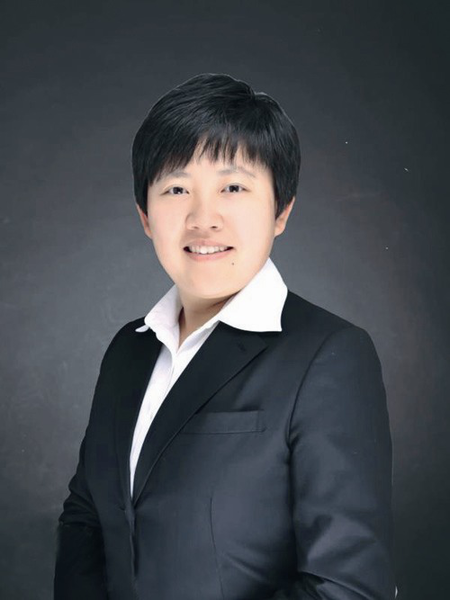 Fu Bin [China Women's News]
A female technological business founder who had learned her skills in Japan and returned to China to start her own business based on underwater robots spoke to interviewers about her story recently.
Fu Bin is one of the founders of Shanghai Charpie Intelligent Technology Co. Ltd.
Currently, Charpie's products and services are applied to underwater engineering, the energy industry, underwater search and rescue, and other fields, which has effectively helped some high-risk industries and significantly reduced high-risk jobs, thereby safeguarding the health and safety of the workers.
"Our goal is to take the lead in China in the next three to five years, so that self-developed underwater robots will soon occupy the mainstream market in China and break the technological monopoly of foreign countries," Fu said.
"Turning scientific achievements into 'China's smart products' is a big challenge which takes a generation's effort," Fu added.
Fu believes that the future is one of science and technology. Her company will make a positive contribution to China's underwater robots.
It was during her time studying in Japan that Fu learned about the other countries' advanced research on underwater robots.
When she first saw a robot 11,000m underwater, she knew that China's vast ocean needed such technology and devices.
Therefore, she resolutely returned to China and joined the underwater robot research and development team of Shanghai Jiaotong University (SJTU) in 2009.
"Though I'd received a well-paid job offer from a Japanese institute before my graduation, I firmly believed that my motherland needed me and could give me the greatest opportunity," Fu said.
During the five years at SJTU, Fu had been engaged in the development of the Seahorse ROV, a 4500-meter deep-sea remote unmanned underwater vehicle operating system.
In 2014, Seahorse ROV successfully passed the quality examination, making it the unmanned remotely operated vehicle system with the greatest working depth and highest localization rate to be independently developed in China so far, with localized key core technologies.
Seahorse boosted Fu's idea to start her own business. So she contacted her former colleague Jin Liping, who was also interested in this field.
Jin, who had gone to work in Australia, was convinced by her and they started a business together.
"I am just a craftsman, while Jin is the very 'brain' of our company," introduced Fu.
The biggest difficulties and challenges they face are quality control and services.
Although Fu has the world's cutting-edge technology and a strong R&D team in the industry, it has been rather a long process and requires continuous improvement to apply it in the actual production.
"There were a lot of twists and turns in the early days, but fortunately we overcame them all," Fu said.
In the second half of 2017, Chapelle's industrial standard underwater robot device officially went on sale after more than a year of grinding tests.
On the one hand, their sales channels start from the industry leaders and spread by word of mouth in various industries in the domestic market; on the other hand, based on their B2B online platform, they plan to open online stores on overseas markets.
As of September, 2017, Shanghai Aquatic Public Security and Blue Sky Rescue Team have become their VIP clients.
"And in October, our team are starting to collaborate with a highway planning and design institute by offering them professional testing services with our underwater robots," said Fu proudly.
They also sent their products to help save people by assisting rescue teams in a ship collision that occurred in July this year.
"So far our team has begun to receive order. Though the order is not stable, we see hope," Fu said.
She hopes that their company can become a world-class, domestically leading underwater intelligent equipment service provider in the future.
(Source: China Women's News/Translate and edited by Women of China)