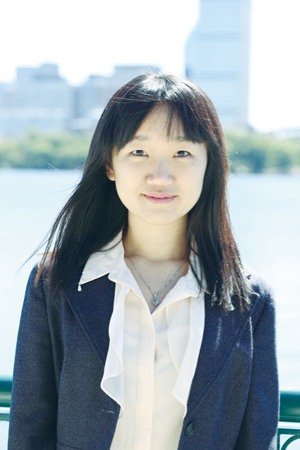 Ren Xiaoyuan [China Women's News]
Ren Xiaoyuan, the founder of the MyH2O water information platform, attracted attention with her unique entrepreneurship concept at the She Loves Tech 2018 Global Startup Competition recently.
Born in Beijing to a family of academics, Ren has always been good at school, but such good grades have become a constraint and limitation for her.
"Good grades became my label. I have had a strong sense of self since childhood. I was unwilling to be defined and limited by achievements, but always wanted to get out of the box," Ren explained.
In the midst of this conflict, Ren kept looking for something other than her grades and tried to redefine herself.
She joined an environmental protection organization in her high school and the experience there changed her.
"Before this, it was hard for me to imagine that the concept of 'environmental protection' could exert such a great influence to make people give up some of their desires and comforts," Ren said.
With animals on the brink of extinction, garbage overflowing, and human facing a health and safety crisis, Ren suddenly found that looking outside made her less self-conscious.
The environmental cause gave her energy, and she began to influence and change people.
Therefore, after graduating from high school, Ren chose to go to Vassar College in the US for an undergraduate degree and then a master's degree in environmental engineering at MIT.
She made several trips to India to participate in a rural water information research project while studying at MIT.
She found that India had a very large water quality database for almost every toilet in every household and every public well that supplies water, which reminded her of the well that was polluted in her parent's hometown in east China's Shandong Province.
With the support of CYCAN (China Youth Action Network on Climate Change) and MIT's D-lab, Ren launched the MyH2O project to recruit university student volunteers to research information about water resources in rural areas in 2015.
They aimed to collect information about the rural water environment in China, build platforms to link drinking water resources and programs for rural areas, and make more people pay attention to rural water safety, so as to effectively solve drinking water safety problems.
Ren decided to return home and take charge of MyH2O full-time in 2017.
At present, MyH2O adopts the method of social collaboration, linking the team of college students and other social organizations, and has gone to nearly 1,000 villages to monitor water quality and collected more than 2,600 sets of data, each of which contains the specific information and current situation of each family.
Due to the different levels and situations of pollution in various regions, the team adopted the form of thematic surveys for data collection. Currently, three special studies are being carried out on coal mine gas well pollution, arsenic pollution and drinking water safety hazards in primary and middle schools.
In the process, Ren found that meeting farmers and listening to their stories in the villages made her feel fulfilled and happy.
"Public welfare has opened up my mind, and made me more confident in this society," Ren said.
Ren is grateful that people in all fields of public service can see their own power, and that they can create change. Even if she faces growing problems, she remains committed to her cause.
Speaking about MyH2O's future, Ren said, "In the short term, we hope to solve more problems. In the long run, we plan to build a complete database and an open platform to allow people to raise problems and make more solutions available."
(Source: China Women's News/Translated and edited by Women of China)