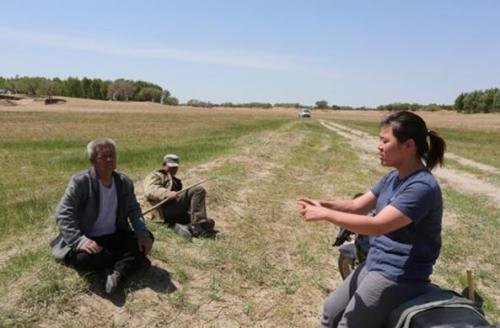 Wang Chunli chats with local farmers. [China Youth Daily]
A female environmentalist has earned high praise from the public after dedicating herself to protecting a national natural reserve in northeast China's Jilin Province for years.
Wang Chunli, 28, recently received a joint letter from Jack Ma, co-founder of China's largest e-commerce provider Alibaba, and Pony Ma, CEO of tech giant Tencent.
In their note, the two businessmen congratulated her for winning a three-star merit in urban civilization building and extended their appreciation for her contribution to environmental protection.
For her job, Wang, together with seven other colleagues, conducts regular patrols in Xianghai Natural Reserve.
The reserve covers an area of 312 square kilometers, of which 175 square kilometers are under the supervision and protection of Xianghai Ecological Protection Center, an affiliation of the Beijing-based Paradise International Foundation (PIF).
PIF is a nonprofit organization that focuses on protecting outstanding countryside, lakes and rivers around the world and is funded by Jack Ma and Pony Ma.
The reserve is home to nearly 300 species of rare birds including red-crowned cranes. Among them, as much as 10 species are considered the national first-grade protected animals.
Due to a lack of financial support and enough protection, poaching occurs frequently.
Last year alone, Wang's team cracked down on a total of over 600 illegal incidents, one of which gained particular widespread attention.
On a summer day, Wang found a suspicious car parked near the core area of the reserve. She saw several poachers armed with guns entering into the waters.
To stop them, Wang risked her life by confronting them and then reporting the case to the police. After days of searching, the suspected group was arrested.
Wang's team consist of eight members, and according to her GPS system, her team has covered journeys of over 40,000 kilometers so far.
(Source: Chinanews.com / Translated and edited by Women of China)