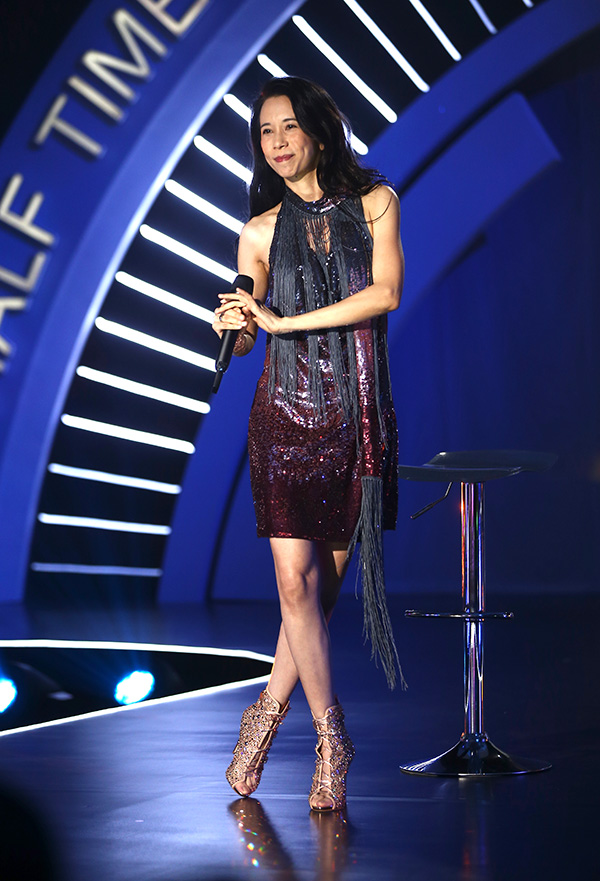 Karen Mok gives a 90 minute live show in Beijing, in which she performs five of her hits and five songs from her latest album, Halftime. [China Daily]
This year marks 25 years for Hong Kong singer-actress Karen Mok Man-wai in the entertainment industry. And though many of the pop stars from that period have withdrawn from the limelight and have become history, Mok still remains active, expanding her career and building a resume that many would envy.
She has collaborated with A-list actors and directors, including Jackie Chan, Wong Kar-wai and Keanu Reeves, and won many accolades including best female singer at Taiwan's Golden Melody Awards, which is considered the Grammy Awards in Mandarin music.
Meanwhile, Mok is celebrating her silver jubilee in the entertainment industry in the way she knows - by releasing a new album.
"I belong to the stage, and I could not think of a better way to mark the special year," she says, adding that she will tour globally from June till 2019 to mark the anniversary.
Separately, on May 31, Mok gave a 90-minute live show in Beijing, in which she performed five of her hits, including Love, Cloudy Day and Baby, and five songs from her latest album, Halftime. More than 3 million viewers watched the show via three online streaming platforms under the Tencent Music Entertainment Group.
For the 10 new songs in Halftime, Mok worked with over 20 songwriters and music producers, whom she has collaborated with in her previous albums.
"The process of making the album brought back lots of great memories for me and those musicians. And I believe the past 25 years have shaped me into the person I am today.
"Music is a big part of my life and those musicians I worked with have influenced me a lot," says Mok.
The first musician that came to her mind as she was preparing the new album was Taiwan singer-songwriter and music producer Jonathan Lee Chung-shan, who has been working with Mok since 1996.
Lee wrote a song, titled Fly, for Mok's new album. And Lee's student, singer-songwriter Li Jianqing, also played the violin and guitar for the song.
Speaking about Lee, she says: "He has witnessed my growth from a newcomer to a mature singer," adding that her album, Karen Mok On The Twelfth Floor, in 2001, won Lee the best music producer award at the 12th Taiwan Golden Melody Awards.
"The songs he wrote, especially the lyrics, not only touched me but also the listeners."
Lee rarely writes songs these days and focuses more on his guitar-making.
So when the invitation came, he decided to choose a classic piece he wrote before for Mok to perform. The result is the rearrangement of the song, Fly, which had lyrics by San Mao, a Taiwan writer popular in the 1980s.
The song was performed by Taiwan singer Michelle Pan Yueh-yun and released in 1985.
As for other songs in Mok's album, she also worked with Beijing-based songwriter and music producer Zhang Yadong on a song, titled Half in Heaven, Half on Earth.
In 2009, she worked with Zhang in her album, Hui Wei, in which she covered a collection of Chinese old hits. Then, in 2010, they continued working on Mok's album Baby, which was nominated for six awards at the 22th Taiwan Golden Melody Awards where she picked up the best female singer award.
When she received the award, Mok announced that she planned to get married. And, in 2011, she married her German husband, Johannes Natterer, who Mok first met when the two were students of Italian literature in Florence, Italy in 1987.
The new album also sees contributions from some young musicians, such as Zhang Yixing and Li Ronghao.
Speaking about her collaborators on the new album, Mok says: "For me, the fun part of making music is to work with different people. They inspire me and broaden my vision."
Mok, who was born in Hong Kong, and is of Chinese, Welsh, German and Persian descent, says she wanted to be a performer as a child. And, so far, the singer-actress has starred in more than 50 movies and released over 20 albums.
However, her road to stardom has not been an easy one. And when she released her debut Canto-pop album, titled Karen, in 1993, she didn't become an instant hit as music lovers did not immediately take to her husky voice and unconventional looks.
But this didn't stop Mok from experimenting and creating her own unique style, such as shaving her head. And she also incorporated traditional Chinese instruments such as guzheng (a traditional Chinese zither-like instrument) into her albums.
She had learned to play the musical instrument as a teenager and continued lessons until she left Hong Kong at 17 to study in Italy and London.
In her English and Mandarin jazz album, Somewhere I Belong, in 2013, she showed off her guzheng skills by reworking Eric Clapton's famous guitar solo in the Beatles' classic While My Guitar Gently Weeps.
(Source: China Daily)