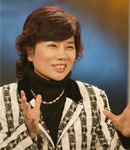 Dong Mingzhu, Gree's vice general manager. [www.alibaba.com]
Her adversaries described her like this: "The road Sister Dong has walked across, no grass will grow." Dong Mingzhu, Gree's vice general manager is well known in the air conditioner industry. In 1996, under her leadership, 23 sales merchandisers fought against marketing teams of a thousand people in China, and she won without a cent of account receivables. People still talk about Dong's marketing ideas today, which conquered her adversaries' hearts. Someone once flew to Gree on his own expense just "to see what kind of woman Dong Mingzhu was". "I never miss. I never admit mistakes, and I am always correct." It was two o'clock in the morning when Dong was interviewed, and her eyes were shining.
"Impossible, how can you never miss?" The journalist and Dong's staff looked at her quietly.
"Yeah. I have a nickname that was given to be when I was a middle school student. It was 'always-have-reasons'!" All the people laughed. Dong's wisdom, her innocence and her broad mind thus emerged.
Do Not Play the Cards in Order
Dong said she became ten years elder in 1995. In that year, Gree greeted its new sales manager, but found that she did not lay out her cards logically. There is only one "logic" for her: her principle – what she thinks is right.
The first problem she faced after taking office was the 19,000 sets of air-conditioners that were stocked during the winter. Generally, people will sell them at a discount of 300 RMB. Song said: "No way. It will damage the product's image if we lower the price of good products." Surprisingly, she distributed them to sales agents.
"We should control big sales agents, and not be controlled by them. All the sales agents should contend with each other equally, and enjoy corresponding treatment according to their scales." That is Dong's principle for sales agents. One day, a big agent with yearly sales of 150,000,000 RMB came to Gree and requested special treatment, and there was a non-negotiable arrogance in his voice.
Dong did not give him a response. Instead she resolutely fought back: take him off Gree's sales agent team.
All the people gasped in amazement: a sales manager who had not secured her chair yet, within one day rejecting 150,000,000 RMB yearly sales without a moment's hesitation. That is Dong. Once you break the rule, get out even though you may think you are the emperor.
In the sales agents' eyes, they were defeated by such a move. Many air conditioner manufacturers often spoil big sales agents and allow them to operate across regions. Then smaller local sales agents are sure to fail. Dong believes that small sales agents can develop into large ones.
Deferred payment is a common phenomenon in China's wholesale and retail industry. It is not only a headache for foreigners; Chinese businessmen also shake their heads. You cannot solve the problem even if they defer for 100 years. Dong said: "I do not believe in ghosts." As a result, the problem was resolved in only one year.
Dong's method is simple, but also forcible: stop delivering goods to every sales agent that defers payment. After they remit what they have deferred, they must pay first, then they can take away the goods. This time she really stirred up a hornet's nest – how can you do business like this in China? Sales agents, big or small, all appealed to Gree's CEO Zhu Jianghong. Someone even declared: "If she stays here, I will go." Dong was tit-for-tat: "With me here, he will leave." Zhu advised Dong: "Maybe we can let them pay the money that is overdue, but let them take the goods first?" Dong said with a gentle smile: "OK." However, when the deferred payment was given, she did not deliver the goods. She said: "Want goods? Money comes first."
Dong spoke plausibly : "Even if others do business this way, Gree definitely will not." Even if she is bloody after being bumped for the 100th time, Dong will try the 101th time.
It sounds strange, but in 1997 and 1998, not a single cent of account receivables or triangle debt occurred in Gree.
A sales agent in Chonging said about Dong: We five or six big sales agents are the same. We trust Sister Dong. If you do not give money, you will not receive any product. Provided you pay the money, the goods are never defaulted. We admire Sister Dong and we will continue to work with her!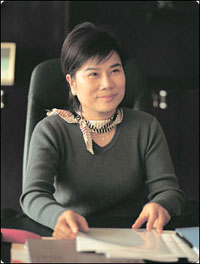 Dong Mingzhu, a marketing revolutionist. [gb.chinabroadcast.cn]
Marketing Revolutionist
All department managers do not ask for benefits and rights for their subordinates and department. However, Dong "betrayed" her own side.
In other air conditioner companies, salesmen receive bonuses according to their sales, and this position is the most profitable. In Dong's opinion, the authority of salesmen should be restricted. Gree's products sell well because of the hard work of the employees and the contribution of the scientists. For a mature product, it is unreasonable for sales agents to receive such a large bonus. Dong ruled that Gree's salesmen would not be allowed to receive kickbacks. Supervision of the sales agents would not be based on sales, but on their communication with sales agents, market research and price supervision. Even though Gree had expanded to 23 sales agents, with each one responsible for one province, they were only responsible for coordination, not development of the sales network. Sales agents are rated first grade and second grade, and in each region, there are only several limited first-grade sales agents. First-grade sales agents can become second-grade agents. In the different scales, they enjoy different rates of returns. In this way, first grade sales agents are inclined to expand their networks quickly.
Dong stated that first-grade sales agents were responsible for supervising second-grade sales merchandisers. Once problems emerged in quality or installment with second-grade merchandisers, they would stop supplying products to the first-grade agents.
Dong reduced sales merchandisers, saving as much as one hundred million RMB used to subsidize the sales agents. Dong kept 23 sales agents to compete with her adversaries' teams of over a thousand people. This was Dong's revolution.
In the eyes of sales agents, sales merchandisers and sales agents compete for profits. Some salespeople have even started their own companies. Gree is different. Profits depend on the sales agents. In Chongqing, Gree has only five staff (one sales merchandiser, two billing clerks, and three after sales servicemen), but has sales of 300,000,000 RMB. However, Chunlan has a sales office in Chongqing with 150 sales merchandisers, at a cost of over 20,000,000 RMB every year.
Among 23 sales merchandisers, ten people have been fired or voluntarily left. When a reporter asked: "Without enough incentive, how will they work?" Dong said: "We should develop our marketing network according to a system, not just one or two able men."
Dong is most tired of inviting others to dinner. When she arrives at meetings with regional sales agents, she not only refuses to invite them to dinner, but often has cold meals in the cafeteria with sales agents to talk about the market. Like CEO Zhu Jianghong, Dong also likes to go on business trips alone. She said: "The principle is simple. If you take another person on a trip you have to spend twice as much."
Sales agents say about Dong: getting along with a leader in economics, we can rest assured.
Dong, a woman full of wisdom in her mind. [dh.yesky.com]
A Woman Full of Sparks in Her Mind
In 1995, Dong invented "returns in the off season." That is to say, according to what sales agents invest in the off season, they are offered corresponding returns. Thus, the "money - products" relationship became the "money - profits" relationship. It not only solved the shortage of manufacturers' money in the off season, but also relieved the supply pressure of the peak season. In 1995, Gree's income during the off season increased by 3.4 times compared to that of last year, reaching a total sum of 110,000,000 RMB in preparation for the final campaign in 1996 with Chunlan.
In 1995, Gree invented "Returns at the end of year", and returned 70,000,000 RMB in profit to its sales agents.
In the off season of 1996, Gree took back 150,000,000 RMB based on the strategy of "returns at the end of year". During price competition in the off season, each brand could only lower its price or make the retail price lower than the wholesale price and the wholesale price lower than the manufacturer's price, resulting in high costs. Dong did not allow Gree to lower its price by a cent. Gree declared that it would subsidize 100,000,000 RMB, 2 percent of profits to each sales agent based on their sales, until August 31. In 1996, a frustrating year for air conditioners, Gree's sales increased by 17 percent, and beat Chunlan for the first time.
Gree not only saved money from minimizing its sales merchandisers to subsidize the sales agents, but also took out 200,000,000 RMB to give back to its sales agents in 1997. Dong believes that only when it is profitable to distribute Gree, can the long-term safety of Gree be ensured. It was her idea to begin registering air conditioners with sales department.
Generally speaking, the off season is from September to March, and the peak season is from April to August. Different prices are offered between off seasons and peak seasons, and the price during the off season is 0.02 percent lower than that of peak season. Air conditioner manufacturers all rack their brains on how to extend the peak season to make more profits.
In 1998, Dong had a sudden idea. She stretched the off season with CEO Zhu's support. In April, they continued with the off season price. Gree refused money that was available at hand. All the big sales agents gave their money to Gree and grabbed their products. Some manufacturers thought: "Dong is really resolute! For so many years, we have never thought of trying this."
"The road Sister Dong has walked across, no grass will grow," someone said ferociously.
Beautiful Career Woman
No one believes that such a forcible and arrogant person like Dong is intimately called "Sister Dong" at Gree. "She is just harsh on the surface - in her heart she wants to help you, but will not tell you," a sales agent said. Dong likes beautiful dresses, but does not wear a suit. "Why should I wear a suit? I like wearing beautiful and free clothes."Dong likes reading books best. In her childhood she dreamed of living a life like the characters in her novels. "Characters in the books are people, we are also people, so why can't we live like in the books!" Sister Dong is simple. She believes in love, life and freedom, and she has had all these during her lifetime. "Everything I do is to prove my ability. I think if everybody works hard in one's own position, like the Japanese and Koreans, and work hard for our nation, China will be strong." In her, innocent ideas are realized through crazy enthusiasm, and nothing seems to be able to stop her. The woman is a romantic, and her beauty is unique.
(Source: Chief Executive Magazine / Translated by Women of China)