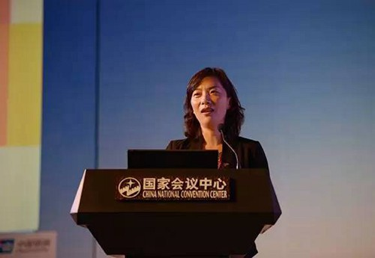 Tong Wenhong [China Women's News]
From a receptionist to one of Alibaba's 27 partners, Tong Wenhong made it in 15 years. In 2015 she was appointed president of Cainiao.com to manage the China Smart Logistics Network (CNS) launched by Alibaba in 2013. Her legendary experience demonstrates that humbleness is in no way a stumbling block on the road to success and sets an example for the rest of working women.
Promotion Story
When entering China's behemoth e-commerce hub Alibaba, Tong was already 30 years old with neither expertise nor experience. She applied for the post of administrative assistant but was rejected at the first interview. But she tried again and was arranged to the front desk. Given her unfamiliarity with the work and a conflict with a colleague, she tendered resignation one week later.
This was indeed a terrible beginning but she persisted anyway. While working as a receptionist at the front desk, she was spoken of highly by her colleagues for her prudence and meticulousness. For instance, she would mail Hangzhou-Shanghai train schedules to colleagues when they went on business trips to Shanghai, she would stock cold drinks in the company's café during summer and she would help answer questions from clients who kept calling for customer services…
A year later she was transferred to the customer support department and three months later she returned to the administration division as director. "It's a great challenge for me to lead the group because I was just a receptionist in the past," said Tong. However, she decided to accept the challenge.
Over the six years since she went back to the administration sector, she got several promotions from managing the customer service center and the human resources department to becoming vice-president of the group.
In an interview in 2008, Tong said she was "stupid, naïve, tough and persistent" and that all of the Alibaba working staff, including Jack Ma, share these characteristics.
Formidable Tasks
While leading the administration division, Tong won several tough battles. The first challenge was backstopping the first West Lake Internet Symposium, the whole process of which was like preparing for a wedding. Despite unpredictable changes and huge pressure, she managed to make it with wide endorsement from her colleagues. Now she is capable of preparing all conferences and tackling any contingencies.
Next came the fitment of the group's venture building. Without any relevant knowledge, she spent an enormous time learning how to control the process and quality of construction projects. In addition, she was also a reliable regulator who uncovered those attempting to make a profit in this grand project.
The third battle was to fight against SARS (Severe Acute Respiratory Syndrome) in 2003. Back then Tong was responsible for reporting emergencies to senior leaders, keeping in contact with security guards, installing emergency evacuation equipment, and even reassuring those who caught a fever.
Over the years, Tong grew to be a mature professional woman. At Alibaba's staff meeting in 2005, she said, "During the past five years at Alibaba I have learned a lot that will benefit all my life."
Alibaba's "Most Inspiring Partner"
In May 2013, Alibaba launched the CNS system cooperation with Intime Retail, Shunfeng Express and other express companies and founded Cainiao.com. Jack Ma served as president and Dong was named the chief operations officer.
Cainiao.com aims at creating a large, open logistics platform within five to eight years and delivering goods to customers within 24 hours.
When Alibaba listed its American depositary shares on the New York Stock Exchange, Tong became one of the first 27 partners of Alibaba and one of its nine female partners.
Prior to becoming head of Cainiao.com, Tong put forward a rather innovative slogan: "Cainiao will never engage in express business. We will neither buy a truck nor will we employ a courier." Some media outlets quoted Alibaba as commenting that Tong was "real and ambitious." Regarding China's current express market, Tong viewed it as "magical place."
Cainiao Builds Modern Express Industry
According to Tong, there are three major issues in China's express industry. First, people find the express market to be a big cake, so they scramble for shares while inevitably ignoring the improvement of service quality. Second, they usually neglect the needs of customers. The third obstacle lies in backward technology, incomplete data and unstable system.
"Cainiao will help express companies improve their efficiency and defend their market environment with advanced technologies and sound statistics. Meanwhile, we will diversify our services on our platform," said Tong. "I believe that enterprises dependent on data, with a focus on promoting service quality will win the future."
On March 31, 2015, Tong was appointed as president of Cainiao.com. On the annual meeting on that day, she conceived the future network of Cainiao.com, that is, continuing to construct a big data logistics platform and enhancing investment in rural and cross-border logistics.
(Source: China Women's News and finance.qq.com/Translated and edited by Women of China)