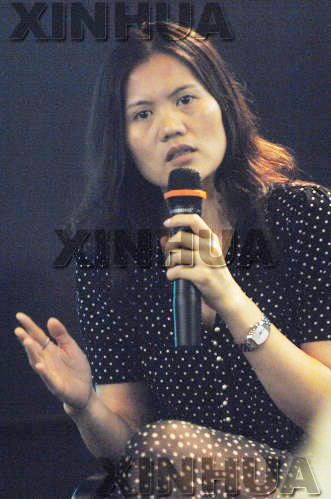 Peng Lei speaks at a press conference in Hangzhou, Zhejiang Province, in July 2012. [Xinhua]
September 19 witnessed China's e-commerce giant Alibaba Group's initial public offering (IPO) on the New York Stock Exchange. One of the founders of the group, Peng Lei, is in charge of Alibaba's micro-financing business, and is considered by many to be Jack Ma's next ace.
In early May, the Huanglong Stadium in Hangzhou, east China's Zhejiang Province, was crowded with over 4,000 people, who came to attend Alibaba's annual meeting on micro-financing service and the 10th anniversary of AliPay, Alibaba's online payment platform (the Chinese version of Paypal).
Peng walked onto the platform and the raucous audiences soon quieted down. "How do you like the past year? Tired? Fulfilled? Awesome?" Peng said in the opening of her speech.
She summarized her feeling as "painful but happy".
It's been a year since Peng began preparing to establish a micro-financing service and bombarding China's financing market with AliPay's first product: Yu'e Bao, a way for individuals to manage excess funds in their AliPay accounts and earn interests higher than that offered by banks.
Born in Hangzhou, the 43-year-old studied business management at Hangzhou Business College. After graduating in 1994, she landed a teaching job at Zhejiang Finance College. Three years later, she married Sun Danyu, who came to know Jack Ma and decided to start a business with Ma in Beijing.
Shortly after her marriage, Peng quit teaching and joined her husband. She became one of the 18 co-founders when Alibaba was established in September 1999. She was "confused about and little interested in building a great company," Peng recalled.
Breaking into a field she had thought little about before, Peng opened a gate to a future Internet empire: e-commerce that would transform traditional business. The online payment service AliPay would come to fruition five years later and online financing a few years later, bringing to life Peng's wildest dreams.
Peng's first job with Alibaba was human resources. During the first years, she worked as vice-president of human resources, marketing and the service department, though human resourcing accounted for most of her career. Peng and Ma looked through resumes of job applicants together, she said, to recruit talent.
As Alibaba's head of human resources, Peng was good at communicating with both employees on the frontline and senior management.
Taking care of human resource in a company with over 20,000 employees is a demanding task, and required all of Peng's talents to successfully manage. Peng proved her abilities in management and earned the trust and appreciation of Ma and other senior management personnel.
During this phase, Peng was considered to be Alibaba's guardian angel who enjoyed working with people. Peng described her job as "guarding these people and the power that hold them together".
Peng hoped to find a way to touch people's souls to promote employees and the organization to grow and create more value. "During my career in human resources, I lived in a world of souls," said Peng.
In 2007, Ma decided to establish an "organizational department", consisting of senior managing teams, to facilitate Alibaba's internal management. Peng was entrusted with the task and completed relevant rules, making the department an icon of Alibaba's culture and values.
Ma's Right Hand
It wasn't until early 2010 that Peng began expanding her career from the "world of souls". She was appointed as concurrent CEO of AliPay, shifting her focus from human resources to the online payment sector.
Since then, AliPay has experienced several changes and its business has grown rapidly and steadily. Expanding from first- to second-tier cities to all over the country and to the overseas market, AliPay now has 800 million users. Peng developed AliPay as a key business strategy for Alibaba, relieving Ma's anxiety over the future of the payment service.
In early 2013, Ma stepped down as Alibaba Group's CEO and assigned Peng the task of preparing the micro-financing service and appointed Peng as the new service's CEO.
While maintaining AliPay's leading position in China's online payment industry, Peng diversified its services and attracted over 100 million users. AliPay's financial products like Yu'e Bao soon became the most popular online financial product in China.
At a press conference in October 2013, Peng said that the newly established micro-financing service would go public but it would choose to debut on mainland China's stock exchange.
According to banking institutions, Alibaba's micro-financing service is worth around U.S. $50 billion. Optimistically, it will become another lucrative business listed under the Alibaba banner.
Another Side
As one of the most influential mangers in the world of Internet giants, Peng has kept a low profile. She seldom gives interviews and never talks about her personal life to the public.
Among the few press conferences she attend, AliPay's PR often ask reporters not to release Peng's photos though they are free to take photos of her. Consequently, Peng's photos are rarely seen online.
In an internal email, Peng mentioned her marriage for the first time, saying that she divorced her husband for a short time, but remarried him soon after. "We have a lot in common. Though stumbling along through our marriage, we still appreciate each other and take each other as a part of our life," said Peng.
Interested in literature, Peng often shares her ideas on books she has read on Alibaba's internal online community. She likes to quote works by Taiwanese author Lung Ying-tai. She also likes paintings by Laoshuhuahua, a sensation on Weibo, China's twitter-like microblogging service.
In the opinion of AliPay's employees, Peng is gentle and easy-going, instead of aggressive and offensive as is rumored outside the company. At the annual meeting in May, after talking about the company's strategies, Peng asked employees not to work at the cost of their health. "Never forget about your family even when you are busy working," said Peng.
Through Alibaba's internal instant messaging service, Peng is always active in uploading photos of landscapes and her colleagues, and occasionally tells a joke or two.
No question, Peng is currently one of most influential women in business, though these activities earned her a nickname "Lin Daiyu", a sentimental figure from the 15th century classic Chinese novel, A Dream in Red Mansions.
(Source: ifeng.com/Translated and edited by Women of China)