Ruby Yang Wins Golden Man Award with her AIDS Volunteering Work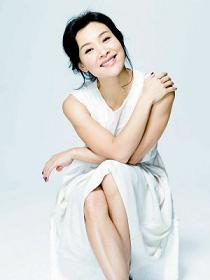 [enoth.com.cn]
Ruby Yang is an accomplished Chinese-American filmmaker whose work in documentar
ies and films has earned her an Academy Award and numerous other international awards. In collaboration with filmmaker Thomas F. Lennon, her film The Blood of Yingzhou District won the 2006 Academy Award for Best Short Documentary.
The Blood of Yingzhou District
In the winter of 2002, Ms Yang noticed reports on AIDS in China and the situation of orphans in the US media. She thought it was a good topic to film on social prejudice.
She learned from Dr. David Da-i Ho, the dean of America Allen Dolman AIDS Research Center, about AIDS in China and contacted some friends in the mainland to discuss the topic. She said, "Everyone thought I was crazy and said it was a mission impossible because at that time, that topic was still a taboo in mainland China."
In 2003, after SARS hit mainland China, she noticed that the Chinese government had done a lot about AIDS and had become more open about public health issues. She felt it was the right time to come to China. She started her project by writing to foundations for funding. One year later, she received the first donation of US $20,000. Afterwards, she received more funding and so she sold her apartment in the US and came to China with her ambition.
On the Spring Festival, 2004, Ms. Yang arrived in Yingzhou, Anhui Province, for her first time. It was a picturesque village: kids in their colorful clothes were playing along the river and birds fishing in the water. Everywhere seemed tranquil and harmonious. It was hard to believe that a deadly disease was silently spreading in this village and the AIDS orphans there were suffering in loneliness and desperation.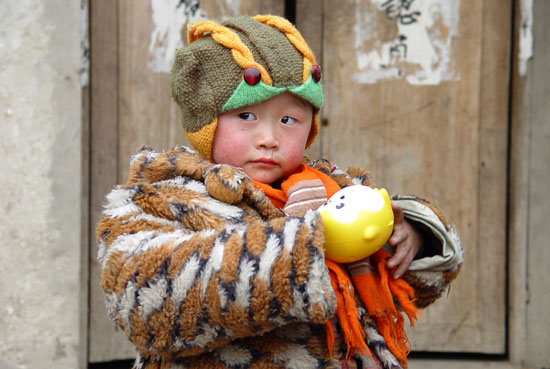 In that village, Yang met a boy named Gao Jun, who refused to utter a word after his parents had died. [sina.com.cn]
In that village, Yang met a boy named Gao Jun, who refused to utter a word after his parents had died. Neighbors prevented their children from playing with him, and his own extended family rejected him, fearing their own children would be affected. He lowered his head deeply, peeping out to strangers with a pair of sad, but guarded eyes. Yang said, "I cannot forget his eyes," and she decided to make a movie for him.
Oscar Award, a Big Surprise
At the moment she stood on the stage receiving the esteemed Golden Man Oscar Award, she said to the whole world in Chinese: "Special thanks to all the AIDS heroes and friends and supporters of our project." This was a proud moment for the Chinese people.
In fact, the award was a big surprise for her. She was dining with her colleagues when she received word that her film had been nominated, but she did not expect to win.
She did not prepare an evening dress for the red carpet on that special day. Luckily, a French company helped her find a long black dress which she wore with a red ribbon on her breast to indicate her role as an AIDS volunteer.
"My mind went blank when I heard my name," she said with a smile on her face, "When I saw those famous actors and film makers sitting down there, it was like a dream come true and I felt I was the luckiest person in the world."
In collaboration with filmmaker Thomas F. Lennon, Yuby yang won the 2006 Academy Award for Best Short Documentary. [sina.com.cn]
Raise Social Awareness on Aids
Ms Yang expressed her commitment to working with CAMP (China AIDS Media Project) to promote AIDS awareness in China. "As early as 2002, Dr. David Da-i Ho told me that a documentary just catering to the taste of the Westerners is not meaningful, the point of making your film should be to let more Chinese people see the facts and be aware of the importance of AIDS prevention and arouse their compassion towards AIDS orphans. I just wish those kids that I did not film could also receive help from society"
She has not shown the film to the children in Yingzhou yet because she didn't want them to feel sorry for themselves. "I wish that when they grow older, they will be mentally strong enough to watch it. For them, a happy childhood is the most important thing now,"She said.
"If my work can eliminate people's prejudice and discrimination against AIDS carriers and improve the living situation of those infected children, it would be the most valuable affirmation of this documentary.
Yang's Bio
Born in Hong Kong, Ruby Yang moved to San Francisco in 1977 to study painting and filmmaking at the San Francisco Art Institute. She then embarked on a career in film, editing features and documentaries.
In 1997, she directed her first feature documentary, Citizen Hong Kong, then in 2000 the hour long documentary China 21. They were shown on PBS stations as part of Asia Pacific Heritage Month. Yang was both an editor and an associate producer of Joan Chen's debut feature Xiu Xiu, The Sent Down Girl, which premiered at the Berlin Festival in 1998 and went on to win seven Golden Horses, Taiwan's equivalent of the Academy Awards.
She served as Series Editor for Bill Moyers' Becoming American - the Chinese Experience (PBS, March 2003). Prior work includes editing Spencer Nakasako's A.K.A. Don Bonus, which aired on P.O.V. and won an Emmy, and the award-winning All Power to the People. In 2000, she directed and edited Silicon Valley, a hugely successful 90 minute documentary for mainland Chinese TV, produced by Eric Xu, the co-founder of Baidu.com.
Ruby Yang is now based in Beijing directing public service announcements and a wide range of documentary work as part of the China AIDS Media Project.
(Source: Nan Fang Weekend/ Translated by Women of China)
Please understand that womenofchina.cn,a non-profit, information-communication website, cannot reach every writer before using articles and images. For copyright issues, please contact us by emailing: website@womenofchina.cn. The articles published and opinions expressed on this website represent the opinions of writers and are not necessarily shared by womenofchina.cn.