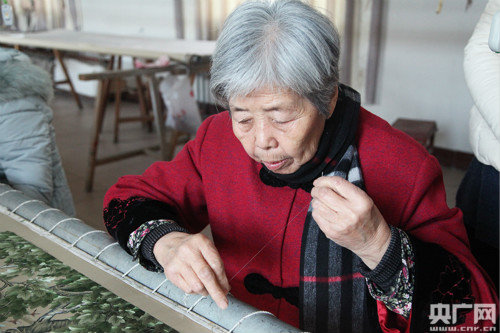 Wang Suhua [cnr.cn]
Wang Suhua, 83, showed compassion for embroidery from childhood, and has engaged in Bian embroidery all her life.
Wang is a master of Chinese arts and crafts and a representative inheritor of Chinese intangible cultural heritage.
In 1959, she created a long scroll embroidery of Along the River During the Qingming Festival, a work of Zhang Zeduan, a famous Chinese artist of the Song Dynasty (960-1279).
This embroidery was the present of Henan province to the Central Party for National Day on the 10th anniversary of China.
Wang and her colleagues finished this world's first in four months after overcoming difficulties.
On October 1, 1959, thanks to her contribution and achievements, Wang was invited to attend the National Day ceremony and received by Chairman Mao and other prominent Party and state leaders.
Back in her hometown, she continued to study the art of Bian embroidery, and created a large number of exquisite works.
In 1990, though retired, Wang decided to establish Kaifeng City Yiyuan Song Embroidery Factory to make Bian embroidery more popular and allow more people to learn and engage in it.
Over the past decade, she has trained over 2,000 students free of charge.
She explains why this is her passion project: "Only if more people engage in this industry, can Bian embroidery, the state-level intangible cultural heritage, be inherited by future generations."
Many acknowledge that Bian Embroidery is more brilliant because of Wang.
(Source: China.org.cn /Translated and edited by Women of China)