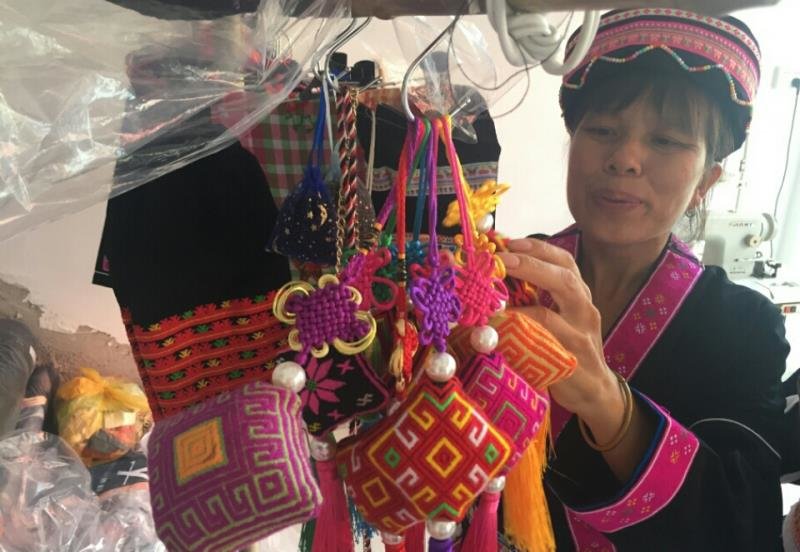 Dengsheng Yimei [people.com.cn]
A team of undergraduates from Guangdong Medical University recently met a craft expert who has devoted herself to preserving and passing down the unique embroidery skills of Yao ethnic group over the past nine years.
The visit was part of the team's charity-based endeavor to investigate the inheritance and development situation of characteristic cultures of the Yao people.
"Yao people respect nature and love life," explained Dengsheng Yimei, from Liannan Yao Autonomous County in south China's Guangdong Province.
"Although we don't have our own language to record our history, various colorful totems were used by our ancestors to take account of their long migration road to escape from the harassment of wars.
"For instance, triangles and dots together stand for mountains; curves represent mountain paths they explored; and, horse-head totems record Yao people's companions during their migration.
"These totems have reflected the hardships that Yao people went through in the past several thousands of years, their harmonious relationship with nature as well as their good wishes for their offspring to live a happy and peaceful life."
These totems are featured on Yao embroideries, an officially-recognized provincial-level intangible cultural heritage.
"However, Yao embroidery has undertaken changes in the past decades, especially in its usage and the way how it is passed to young inheritors," she added.
"In the past, when girls of Yao ethnic group reached five or six, their family members would begin to teach them the craft personally.
"But now, more Yao children choose to learn the art as per their own wish and study mainly at classrooms in school."
Dengsheng said local cultural centers invited embroiderers to give lectures to children every year. "There are books about Yao embroidery but they're difficult to understand for most ethnic Yao women," she said.
With the development of modern techniques, the inheritance and development of ethnic cultures meet severe problems. In particular, their external communication channels are narrow and they lack a market.
"Yao embroideries needs enhanced publicity," Dengsheng remarked.
"As long as my health condition permits, I'll keep on embroidering and contributing my strength to the passing down of my ethnicity's characteristic cultures."
(Source: People.cn/Translated and edited by Women of China)