As China's new President Xi Jinping begins his maiden foreign visit this month, his wife, Peng Liyuan, has been featured prominently in both Chinese and foreign media coverage.
This is in sharp contrast to the relative invisibility of Chinese leaders' wives at the beginning of the People's Republic of China, when foreign leaders who visited China with their spouses found that there was no one to welcome their wives.
The situation continued until Zhang Qian (1922-1974) came along. As the wife of China's then-foreign minister, Chen Yi (1901-1972), she was influential in helping her husband forge powerful foreign connections for China.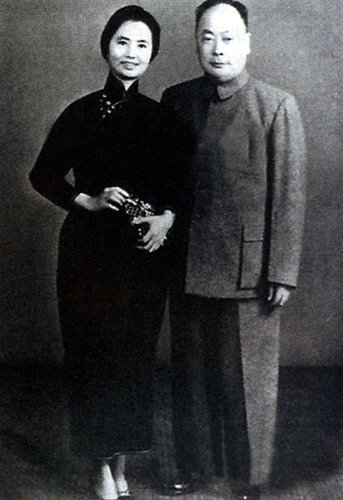 Zhang Qian and Chen Yi were devoted to China's foreign affairs in the 1950s and 1960s. [china.com.cn]
New Mission
In 1958, Zhang was in a state of great excitement. Her career as a translator was taking off with the publication of her second translated book. Having studied Russian in 1947, she enjoyed her work very much.
But little did she realize that her life would soon change with a new mission assigned to her by the Chinese central government, as a result of Chen's shift in government roles.
Since the founding of New China, Premier Zhou Enlai (1898-1976) had been also working as minister of foreign affairs. The work was eating up too much of his time and he was casting about for someone qualified to take over the job.
With his experiences studying in France and coordinating cooperation between different parties during World War II, Chen was found to be eminently suitable.
In 1954, Chen was named Vice Premier at the first National People's Congress (NPC) and was assigned to work in foreign affairs. Later that year, he led a delegation to start his first foreign visit to the German Democratic Republic and Poland. In 1955, he participated in the Asian-African Conference (Bandung Conference) as Premier Zhou's foreign affairs aide.
In 1958, Chen was named vice premier and minister of foreign affairs at the NPC.
Early on in his career, Chen identified the need for a woman to help greet foreign delegations.
"If we only have staff to greet male visitors and not their wives, it would seem like we do not respect women," said Chen.
In order to encourage the wives of government officials to start playing a role in foreign affairs, he tried to persuade his wife to set an example.
But Zhang had her own dreams - she wanted to build a career in translation and literature. She agreed to help Chen occasionally, but not full time.
Chen then turned to Deng Yingchao, the wife of Premier Zhou, for help persuading Zhang. Deng invited Zhang to meet with her and said, "It is a foreign affairs business, but it's also related to women's issues. You have all that you need to do the job well."
"Also, Premier Zhou hopes that you can take the job," added Deng.
Zhang finally agreed and reluctantly put away all her Russian dictionaries.
"Deng is great. She is able to persuade you with just one talk," Chen said to her after she had made her decision.
"This is the third time I'm changing my career for you," Zhang replied, sighing.
Chen was aware of his wife's sacrifices. When they got married in 1940, Zhang gave up her beloved job in a performance troupe. And now she was giving up a promising translating career.
"I understand that you have given up a lot for me. I have shifted my work from military to city management and now to foreign affairs. For the sake of our country, let's work together," Chen comforted his wife.
Diplomatic Debut
On behalf of her husband, Zhang made her diplomatic debut at a banquet for ambassadors and economic delegates from a number of countries.
The banquet was supposed to be Chen's first meeting as China's new minister of foreign affairs with officials from foreign governments. However, he suddenly fell ill and Zhang was assigned the job of presiding over the banquet and delivering the welcome speech.
Surprised at the strange turn of events, the foreign attendees nonetheless recognized it as a sign of China's new flexibility in dealing with foreign affairs.
Zhang Qian [R] walks with former Premier Zhou Enlai into the Great Hall of the People in 1963. [people.com.cn]
Head of Women's Delegation
When China and Cambodia established a diplomatic relationship in 1958, Norodom Sihanouk (1922-2012), the former prime minister of Cambodia, invited Premier Zhou's wife and Zhang to visit his country during its Water Splashing Festival in November.
The Chinese government attached great importance to the visit and organized a delegation of 11 women, headed by Zhang.
Sihanouk himself organized the reception work for the delegation and he and his mother, Queen Sisowath Kossamak, welcomed them.
In the next eight days, the delegation visited schools, factories, hospitals, farms, rubber plantations and women's organizations in Cambodia's four provinces. They also met the wives of Cambodian ministers and governors.
As the head of the delegation, Zhang was widely praised across the country.
Shortly after their visit to Cambodia, the delegation was invited to visit Vietnam by a Vietnamese women's association. During their visit, the delegation met their Vietnamese counterparts as well as Ho Chi Minh, the late Vietnamese President.
Welcoming Indonesia's First Lady
By the 1960s, Zhang had become a professional diplomatic official and a director in charge of foreign affairs involving the wives of Chinese government officials.
When Hartini, the wife of the first president of Indonesia, Sukarno, was invited to visit China in 1962, all the Chinese government senior officials and their wives, including Deng and Zhang, welcomed her with a reception banquet.
In September, Chen and Zhang accompanied Hartini to visit the Summer Palace in Beijing. Walking along a corridor lined with classical Chinese paintings, Zhang introduced their stories to Hartini.
She also took Hartini on a boat ride around the lake, where she impressed Hartini with her knowledge of traditional Chinese gardens.
When Hartini returned to her country, she told her husband about China's respect and friendship towards Indonesia. She also launched a series of activities to raise the profile of China in Indonesia.
During her diplomatic career, Zhang made 21 foreign tours in 12 countries, including the Soviet Union, Switzerland and the Southeast Asian countries. She met a number of first ladies, queens, princesses and women diplomats and made significant contributions to China's relationships with foreign countries, especially Southeast Asian countries.
Zhang died of lung cancer in Beijing in 1974, two years after her husband died.
(Source: people.com.cn/Translated and edited by womenofchina.cn)