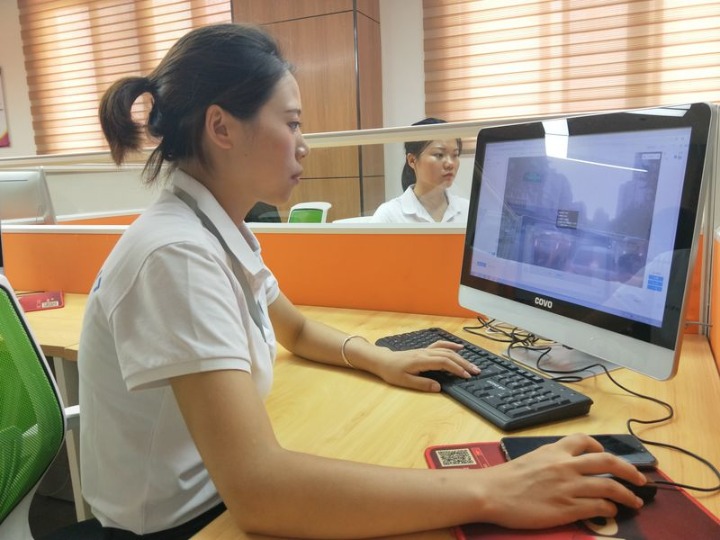 Wang Hongmei sits in her office at the incubation space of "AI Dou Plan" based in the Wanshan District of Guizhou's Tongren City on July 31, 2019.

[Xinhua]
In a bright, clean office, Wang Hongmei intently labels every car displayed on a computer screen with rectangles of different sizes before she uploads them to the server. In the office are rows of PC screens displaying similar content.
Wang, the recipient of a new "AI trainer" certificate from Alibaba, is working side by side with colleagues as the "mother" of the AI, training machines to "read." Before she became an AI trainer, the 23-year girl was a kindergarten teacher. Although she was happy with her job, she could not always make both meet and had to support her parents with her income.
Wang became an AI trainer by chance, after hearing about the "AI Dou Plan." Co-launched by Alibaba and the China Women's Development Foundation, the plan is aimed at helping poverty-stricken populations get employment right at their doorstep. Based in Wanshan District of Guizhou's Tongren City, the place where Wang Hongmei works is China's first poverty alleviation incubation space for the "AI Dou Plan."
Helping machines "understand" the human world is a process similar to teaching an infant to babble out his or her first words. AI machines need trainers as patient as Wang to teach them bit by bit. The first step is to analyze huge amounts of text, pictures and video. But all these materials must first be categorized and labeled by a human.
Wang is a zealous learner. She always picks things up faster than others during label training. "Although AI labeling is far from real AI technology, I always say to my friends 'We are the people behind the curtain of AI', so it feels rewarding." Now locals are rushing to become AI trainers as soon as a new round of enrollment starts.
(Source: chinadaily.com.cn)
Please understand that womenofchina.cn,a non-profit, information-communication website, cannot reach every writer before using articles and images. For copyright issues, please contact us by emailing: website@womenofchina.cn. The articles published and opinions expressed on this website represent the opinions of writers and are not necessarily shared by womenofchina.cn.