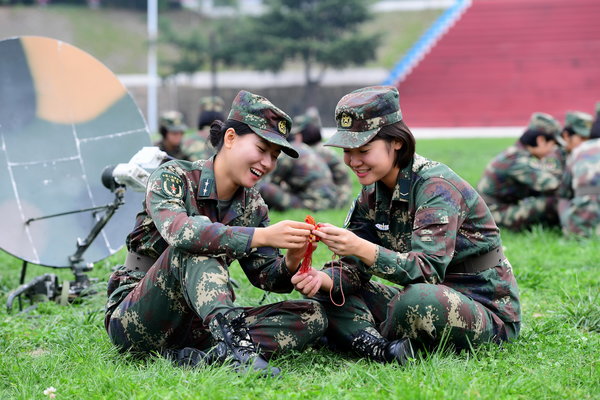 Huang Huamei (left) and her soldiers [legaldaily.com]
At the recent symposium held by the Chinese Rocket Army, platoon leader Huang Huamei, as the only female representative, took her Soldiers' Diary to the Rocket Army's event to tell stories between her and her female soldiers.
There are 56 female soldiers in Huang's platoon, of which 55 are college degree holders.
There is a soldier named Bao Yuanyuan, who often failed the physical assessments and internal affairs checks.
Though there was no squad leader who wanted to have her in their units, Bao didn't care just a bit. Even the company commander and political instructor could not handle her.
But Huang did not give up on Bao, believing that she could make it so long as she has tried hard enough. And as a result of her two-months'effort, Bao has ceased to be a drag on.
In May this year, during the 100 kilometer training hike organized by their brigade, Bao rejected Huang's offer to share her load several times, even though both her feet were covered in blood blisters.
"Most of these female soldiers are eighteen or nineteen years old and, like Bao, getting confused is part of the growing pains, meanwhile, however, each one of them has her own luminescent brilliance. The key is whether you can light it or not," Huang wrote in her diary.
She therefore recorded each one's personality, hobbies, specialties, growth experiences and family situations, and set many small goals for them to achieve.
Since she took over this post, so far Huang has had three soldiers promoted, six admitted to the military academy, and 25 have become backbone soldiers.
This year, a female soldier sprained her wrist during training. Although it was not a serious injury, she suddenly became depressed.
It turned out that her 13-year-old brother suffered from kidney disease and needed a large amount of money for treatment, but her family couldn't afford it.
As soon as Huang learned about this, she transferred from a disguised account 500 yuan to the soldier right away. And, moreover, she reported the situation to the company and applied for an allowance for her.
Huang is also good at training soldiers.
During a July drill on operating communication satellites, the female soldiers led by Huang broke the long-established record of male soldiers and won the final competition.
"At that moment, I felt that I was Mu Guiying or Hua Mulan [two famous female generals in ancient China] leading the women soldiers galloping across the battlefield," Huang said proudly.
(Source: China Women's News/Translated and edited by Women of China)