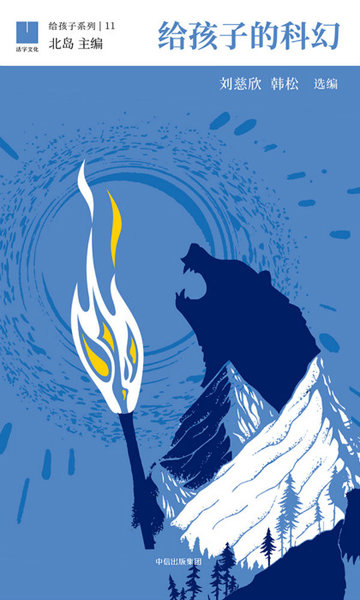 [Photo/China Daily]
Collection of short science-fiction stories launched as part of children's book series, China Daily reports.
Two of China's top science-fiction writers Liu Cixin and Han Song sat down with poet Bei Dao and Peking University professor and cultural critic Dai Jinhua for a discussion at the recent launch in Beijing of a collection of short stories, entitled Science Fiction for Children. It is the 11th book in the Chinese series Books for Children.
Bei Dao (pen name) is the series' editor, and Liu and Han were invited to choose stories for the book.
In recent years, science fiction has gained popularity in China, especially after Liu won the Hugo Award in 2015.
"The future has never been so attractive as it is now. This (the award) provides opportunity for science fiction (in China), and that is why it is getting more attention than before," Liu says, adding that it is also a result of China's social development.
Science Fiction for Children contains 15 short stories published from the 1950s, a golden age for the genre, until the present, including British author Arthur Clarke's The Wind from the Sun, Chinese author Tong Enzheng's Magical Flute in the Snow Mountain, A Walk in the Sun by US writer Geoffrey Landis, Liu's The Micro Era, Han's Cosmic Tombstone, and American writers Ted Chiang's Tower of Babylon and Ken Liu's Cosmic Spring.
While they both picked old classics and representative pieces by contemporary writers, Liu and Han had different approaches to the new collection of short stories for children.
"I focused more on hardcore technology, or hard science fiction," Liu says.
Comparatively, Han's emphasis was on "the philosophical thinking and doubts about the human capability to conquer nature", Dai says.
Liu writes in his preface to the book that opposed to fairy tales, scifi will gradually become a reality. As a result, apart from inspiring children's imagination and broadening their view, sci-fi will help to mentally prepare children for various possibilities of the unknown universe, Liu says.
The book starts with US writer Tom Godwin's The Cold Equations, published in the 1950s. It tells of a cruel death of an underage girl who illegally hides in a rescue spaceship to see her brother on a planet far from Earth. In order to reach the destination as quickly as possible, the spaceship has a fixed quantity of fuel that does not allow any extra weight-only the pilot. Otherwise, the spaceship will crash and the pilot and the six people including the girl's brother on the planet will all die. As a result the girl must be tossed out of the vehicle into space as soon as possible and she will die immediately.
It is a story picked by Han, who came across it when he was a middle school student.
"It impressed me deeply, for it revealed the truth of the universe to me for the first time. When it comes to physical rules, all people are equal, and they cannot be broken by anybody," he says.
"As I grew up, I gradually realized the broader meaning. Under such circumstances-nothing, power or money, can save the girl. It's what we lack now. Apart from textbooks, what is more important is that we should tell children the truth about the universe," he says.
"Children can accept death, and sometimes they understand it more profoundly than we expect." Bei Dao agrees that children should not be kept away from such notions as loneliness, death or frustration.
Commenting on Liu and Han's works, Dai says they represent two different aesthetic styles and directions in sci-fi writing.
Liu's fiction is more of practical writing based on imagination, but Han writes more to explore the humans' inner world when confronted by the unknown universe, the changing reality or the uncertain future, Dai says.
"Especially about people's anxiety about the world that keeps being transformed fast by information technology, artificial intelligence, bioscience and virtual reality," Han says.
Liu has earlier expressed his worries about this trend of "inward exploration" in sci-fi writing.
"Currently sci-fi writers around the world tend to explore humans' inner world rather than outer space like people did during the golden period from the 1930s to the '70s, when science fiction was optimistic, enterprising and open-spirited. Sci-fi's inward-looking tendency reflects the situation of human civilization. In the 1960s, we landed on the moon but since then we have not moved forward much. We don't go to the moon anymore. In contrast, the fastest-developing technology, information technology, is an 'inward' one.
"Soon the day will come when we will need only to spend our life in a room without any difficulty. With VR, we can experience the world without stepping outside the door. The whole human culture will become more and more inward. If stars or space are experienced through VR, why should humans take risks to explore them any further? The new-generation of sci-fi works mirror such a trend.
"As a sci-fi writer, although the future has many possibilities, if it does not include interstellar travel, no matter how prosperous the Earth is, it's a dark future to me," Liu says.
Liu Cixin and Dai Jinhua contribute to the sotry.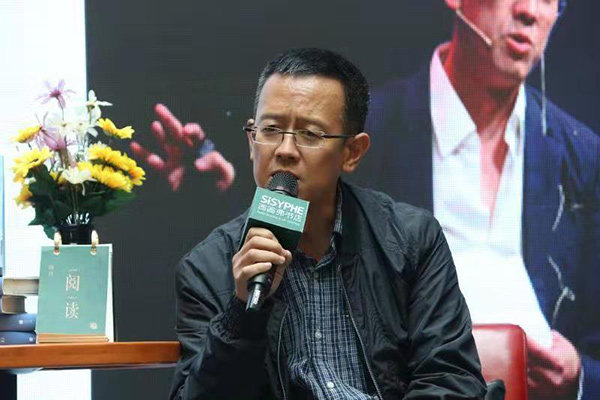 Science-fiction writer Liu Cixin, poet Bei Dao and writer Han Song are among the experts talking about sci-fi creations at the recent launch in Beijing of a collection of short stories, entitled Science Fiction for Children. [Photo/China Daily]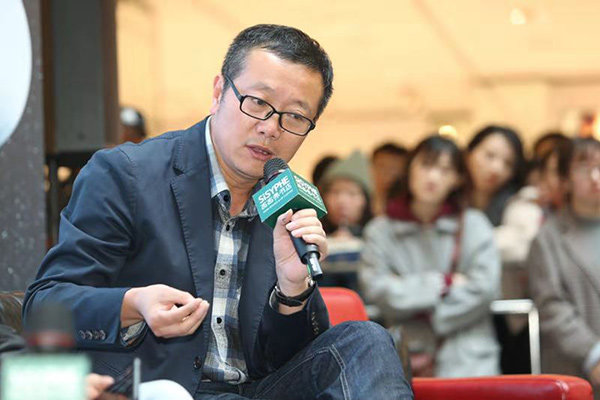 Science-fiction writer Liu Cixin, poet Bei Dao and writer Han Song are among the experts talking about sci-fi creations at the recent launch in Beijing of a collection of short stories, entitled Science Fiction for Children. [Photo/China Daily]
(Source: China Daily)