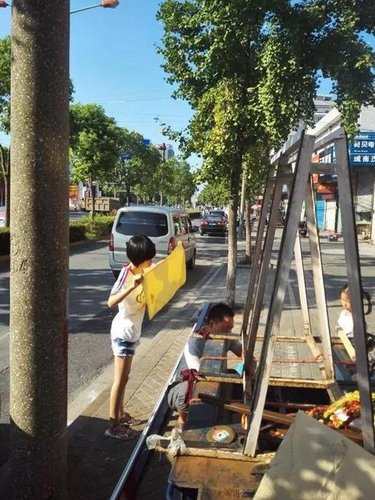 A girl holds up a yellow towel to shade her father from the scorching sun. [Qianjiang Evening News]
A heartwarming roadside scene which was photographed and uploaded online by a passing pedestrian, has recently sparked much commentary about Chinese parents' family education.
In the picture, a man squats by the roadside, repairing a motor tricycle, while behind him stands a girl holding up a yellow towel to shade the adult from the scorching sun.
After the pedestrian shared the picture with his friend circle on the instant messaging app WeChat, it received countless likes, comments and shares.
Deeply touched, many netizens also began to consider the child's thoughtful consideration for her parents. Such actions, which should be a matter of course, have become a rare quantity.
"It is worth our deep reflection! As we put more and more emphasis on study and scores, we have ignored moral education, which is of greater value," a netizen commented.
"Family, school and society only judge a child on a mere criterion - their academic result. However, the thing which they ought to put at first place is moral education such as their personality and how to react to parents' love," another commented.
The Pedestrian: 'What a Thoughtful Girl!'
After an investigation, reporters found the pedestrian. The man surnamed Xu said he was on his way to a nearby supermarket last Sunday when he saw the touching scene.
"At the time, I thought they must be a father and a daughter. Hit by warmth, I took a picture right away," Xu recalled.
"What a thoughtful girl!" Xu added.
Xu told Qianjiang Evening News that his own son is around the same age as the girl but "is a wayward child and lags far behind."
"My son never greets me when I return home from work. Nor does he care about whether I have eaten supper or whether I am tired even when I came back deep at night.
"Many children in cities are the only child of their family. We have made our most to offer them the best, which makes them take parents' love for granted," Xu concluded.
The Girl: "It Is What I Should Do."
Reporters also found the girl in the picture. Her name is Yang Meng, who moved to the city of Jiaxing in east China's Zhejiang Province with his parents seven years ago.
Learning that journalists came to report on her behavior of shading her father from the sun on that day, the 14-year-old felt quite surprised.
"It is what I should do and is too common to mention," Yang said.
"That day, my father's motor tricycle which he uses to carry goods broke down. Repairing the vehicle outside, he was wet through due to the hot day.
"At first, I intended to take an umbrella, but ours was also broken. So I had to use a towel.
"Worrying me, my father urged me to go inside many times and even got angry with my disobedience. I knew that he feared that I might suffer sunstroke."
The Girl's Mother: "Let Kids Do Simple Matters That They Can."
Yang's mother Su Xiaofeng said that Yang often shares housework and also helps look after her 6-year-old brother and 7-year-old sister.
"She used to help her grandma cleaning the house before we came here," Su stated.
"We are busy providing for the family so we don't spoil kids like urban parents. We let them do simple matters that they can."
Su believes that the most important thing for parents is urging their children to develop good habits such as doing their own matters and being polite to others.
"Our three kids are all quite reasonable. Though working far away from our hometown, we don't feel tired and is happy to live together," Su said with a smile.
(Source: Qianjiang Evening News/Translated and edited by Women of China)