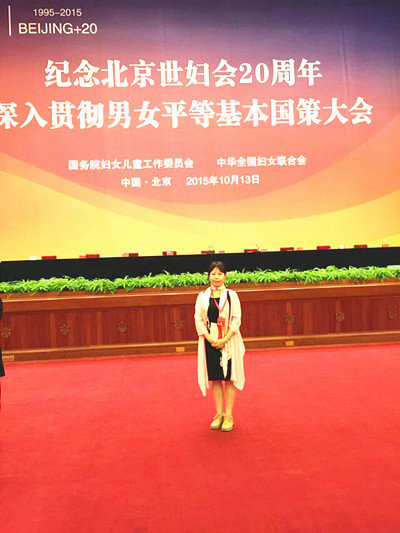 Professor Zhu Pingyan attends the ACWF forum on the basic State policy of gender equality, in Beijing on October 13-14. [Photo courtesy of Zhu Pingyan]
A forum, jointly launched by the All-China Women's Federation (ACWF) and the Chinese Women's Studies Society (CWSR), was held to mark the 20th anniversary of the Fourth World Conference on Women and the implementation of the basic State policy of gender equality, in Beijing on October 13-14.
Women of China interviewed Central China Normal University's professor Zhu Pingyan, who is focusing on women's studies, gender studies and social work, to talk about her experiences and opinions of the forum.
Zhu, who is a newly-elected council member of the ACWF, shared her personal feelings about President Xi Jinping's speech which he gave at the Global Leaders' Meeting on Gender Equality and Women's Empowerment in New York this September. She said that President Xi's remarks provide an explicit direction as to the innovative development of women's causes under present conditions.
At the conference, the participants reviewed a series of achievements that have happened since the Fourth World Conference on Women took place. Zhu said that many curricula relevant to the study of women and gender are now set up in universities. At the same time, more college and postgraduate students are recruited in related majors. These changes tell us that higher institutions are not only a place to cultivate young talents, but also a starting point to teach students to see the world from a gender perspective.
In addition, Zhu said that the ACWF has also gathered other powers from the higher institutions, NGOs and enterprises, who are all working together to promote the development of women's causes, which is great progress.
Nowadays, as more people attach importance to women's issues, as well as the increased consciousness towards human rights, some other changes have also impressed Zhu. For instance, domestic violence is not a simple affair to be dealt with within a family, she said. Instead, it is an infringement, a crime against women's human rights, which has now raised more concern from the whole of society.
While talking about her professorship, Zhu said that in her university she has set up two curricula related to women's studies. One is on gender sociology, which focuses on theoretical knowledge. The other is on women's social work, which highlights practice. Combining the two courses with the research projects she is committed to, the professor has made many personal contributions towards women's studies and will continue to do so.

(Women of China)