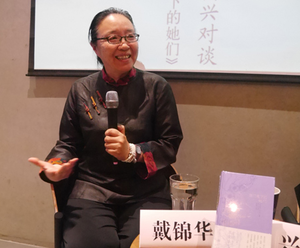 Dai Jinhua, professor from Peking University and a scholar of gender studies, shares her idea about feminism with readers in a club for the book 'Ladies from the Pen of Female Writers.' [cssn.cn]
Over 100 Beijing readers joined in a reading discussion at the One Way Book Store in Chaoyang District, on August 22, to share their opinions on the book Ladies from the Pen of Female Writers among themselves and other guests.
Ladies from the Pen of Female Writers is a collection of short stories by 27 female writers from 15 countries over the world. All of the main characters in the works are female, and the whole book was produced by women almost exclusively—from translating to editing, preface writing and graphic design.
"It's an anthology by multiple women for all women," said the host.
Dai Jinhua, professor from Peking University and a scholar of gender studies, was invited and talked about her ideas about issues concerning women hundreds of years ago and in the modern era.
Spiritual Pursuits or Material Comforts?
When asked about her opinion concerning the female writers' constant struggle for spiritual satisfaction, professor Dai cited the short story "The Cabin in the Garden" of American writer Willa Cather, in which the heroine is confronted with the tough decision to choose between the spiritual or the material, a rich husband or self-achievement.
She pointed out that economic independence is the premise of comfort and freedom in life, and in the spiritual world. Nevertheless, women should not trade anything for such independence, for once that happens, they must pay the price.
"I have never opposed any choice by any women. While some of them have to go through numerous hardships for self-independence and fulfillment in material terms and in the mind, those dependent on their partner are bound to sacrifice something valuable as well. We can't say which is more painful."
The works in Ladies from the Pen of Female Writers have subtly presented some of the dilemmas in life—some confronting all human beings, some particular to women alone, said Dai.
Reason and Wisdom for Perfect Gender Relations
In contrast to most of the audience, Dai claimed that men are also victims of the patriarchal society when talking about gender relations. For example, men are likely to face harsher realities when they fail, since they are thought more capable than women and therefore expected to be winners.
As to sound gender relations, Dai held that "everyone lives in society and needs the companionship of each other; however, individual differences make them hard to integrate." Hence, she called for more reason and wisdom in tackling such differences, by struggling and conceding on the basis of mutual understanding.
Still, Dai hopes that women should be given more rights and freedom to make themselves heard and tap into the infinite possibilities of the future.
However, "the greatest significance of feminism lies in women providing new resources and creations to the world with their own life experience, other than merely equal rights or gender antagonism," she said.
(Source: cssn.cn/Translated and edited by Women of China)