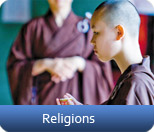 Brief Introduction of China



Tian'anmen Square, Beijing

Situated in eastern Asia, and on the western shore of the Pacific Ocean, the People's Republic of China covers a land area of 9.6 million square kilometers, with an inland and coastal water area of more than 4.7 million square kilometers and an eastern and southern continental coastline extending for about 18,000 kilometers. Its vast maritime territory is studded with 7,600 islands, of which Taiwan is the largest with an area of 35,798 square kilometers. China shares common borders with 14 countries and is adjacent to eight nations on the ocean. There are four municipalities directly under central government administration, 23 provinces, five autonomous regions and two special administrative regions. The capital city is Beijing.

Name: The People's Republic of China, commonly known as China Capital: Beijing


Population: 1.3 Billion (2005)


Land Area: Approximately 9.6 million square kilometers


Geographic Location: In eastern Asia and on the western shore of the Pacific Ocean