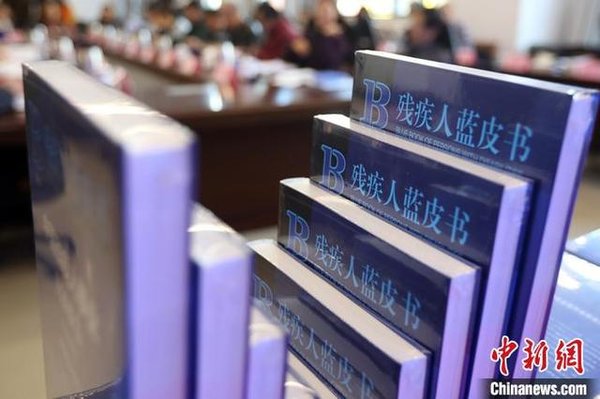 A blue paper on efforts made for handicapped people shows improvements of barrier-free environment for the disabled. [Chinanews.com]
China has on Sunday released a blue paper on efforts made for handicapped people, highlighting improvements in the barrier-free environment across the country.
The Chinese Academy of Disability Data Sciences, the sole academy engaged in data on handicapped people in China, released the blue paper that was compiled by 29 experts from government, enterprises, colleges and research institutions.
The blue paper shows that in general, 40.6 percent of consumer service places among 10 categories had barrier-free facilities in 102 cities in 2017, with medical service places possessing the most at 67.4 percent and shopping centers the least at 31.2 percent.
In 2018, the government offered barrier-free facilities for 1.158 million families with handicapped individuals, and except for cities, the villages and communities had offered more barrier-free facilities in service centers, hospitals, schools and kindergartens, said Bai Xianchun, executive head of the academy.
Now, China has more than 85 million handicapped people, and 250 million people aged over 60, Bai said. The aging population would have a higher demand for a barrier-free environment, he said.
Sun Youran, professor of the academy, said that a barrier-free environment is the basic necessity for the handicapped and disabled elders to take part in social life, and designers should realize what they really need in areas such as tourism and travel.
Along with the blue paper, the balance index of efforts for the handicapped was also released Sunday for the first time, and in 2017 the figure was 51.9 percent, up 3.6 percentage points from 2015.
Bai said that a prominent problem was the unbalanced development of endeavors for handicapped people in different regions across China.
(Source: chinadaily.com.cn)