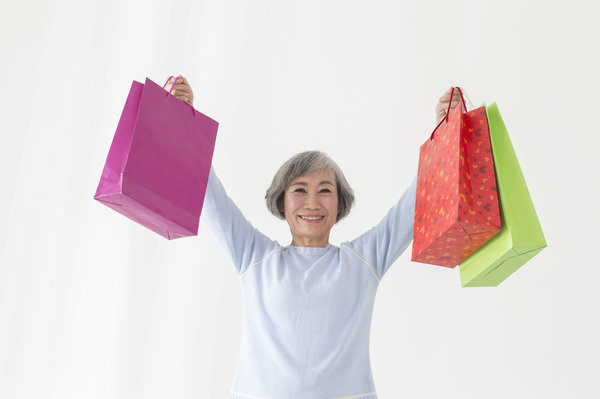 The elderly people aged 61 to 76 in China have great potential for increased consumption. [Tuchong]
Statistics show that China's aging population — those aged 60 and above — reached 249 million by the end of 2018, surpassing the number of people aged under 15 for the first time and accounting for 17.9 percent of China's total population.
Last year, a concept of "rise of the new elderly" was raised in a white paper introducing the consumer habits of the elderly people in China in 2017. The new elderly is defined as the people aged between 61 and 76 and with fixed-incomes. They are wealthy, and have fair health, free time and open minds.
With the development of society and the economy, the seniors are changing their consumption concept — more and more are beginning to spend extra cash on a high-quality lifestyle.
Jin is one of the "new elderly." A travel enthusiast, he just completed a 38-day self-driving tour to the southwestern China's Tibet Autonomous Region.
Chi Mingzun, a resident in Zhoushan (a city in East China's Zhejiang Province), who learned photography after retiring, said the hobby gave him a sense of achievement and fulfillment.
Li, a senior resident in North China's Shanxi Province, has changed her frugal lifestyle and she considers quality a priority rather than discounts when she goes shopping. Not long ago, she joined a travel group and visited Japan with her friends.
Cui Xiujian, an associate professor at Harbin Normal University, suggests that communities should offer lectures on scientific, reasonable and healthy consumption concept for the elderly.
According to the China Aging Association, the consumption market of the aging population will reach 3.79 trillion yuan (US $550.23 billion). However, the inadequate products and services for the elderly do not meet their various demands.
Insiders suggest that elderly-related enterprises should be needs-oriented, develop personalized aging supplies and services and increase efficiency of supply to stimulate the consumption of the elderly and expand the market.
Wang Jianjun, Executive Deputy Director of the Office of the National Working Commission on Aging, said that the office would strengthen supervision, welcome more entrants to the aging industry, and constantly meet the elderly's diversified needs in products and services.
(Source: China Women's News/ Translated and edited by Women of China)