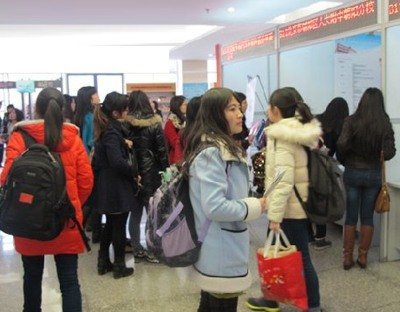 Female university students at a job fair [File Photo]
As political advisors call on media to play a bigger role in promoting gender equality, over half of respondents to a survey by China Youth Daily said they have experienced discrimination.
The study of 2,005 people showed 51.6 percent think they were discriminated against because of their gender. Over 52 percent saw requirements like "priority for males" or "only men" in job postings.
The survey found 48.5 percent believe women are restrained in seeking career development while 41.5 percent think women earn significantly less than men for equal work.
It was also found that 45.9 percent of respondents think women face childbirth-related stress that could affect their performance in the job market.
Cui Yu, a member of Chinese People's Political Consultative Conference (CPPCC) and vice-president of the All China Women's Federation, said many employers set higher requirements on female job seekers due to concerns over rising costs following the nation's recent adoption of its two-child policy.
"Every step is particularly hard in pushing forward gender equality," said Zhang Jing, also member of the political advisory body CPPCC.
Zhang urged governmental departments to fully demonstrate the spirit of gender equality in implementing policies during the 13th Five-Year Plan (2016-20).
A proposal by a group of CPPCC members called on the media to ban words like "leftover women" or "leftover men", terms sometimes used for those who are not married at socially expected ages.
Hong Tianhui, former vice-president of the All China Women's Federation, said some media hype the physical appearance of women in reporting or take it for granted in using catchphrases that carry implicit message of gender discrimination.
The China Youth Daily survey also found that 38.8 percent of respondents are familiar with values like "a wealthy husband is better than a good job."
Hong said some expressions harm the dignity of women and affect proper assessment of their abilities.
The proposal also called for gender equality awareness to be a part of qualification certificate tests for media professionals.
(Source: China News Service)