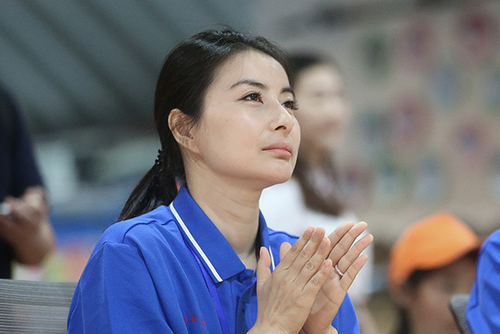 Guo Jingjing [Xinhua]
Former diving athlete Guo Jingjing appeared at Wuhan Diving World Cup on June 5 in Wuhan, central China's Hubei Province.
This time, she was no longer an athlete, but a promoter who encouraged more teenagers to love diving sports.
Though she has been retired for nearly 10 years, Guo has always paid close attention to this sport, feeling as if she would never really leave diving. She said that she did want to do something meaningful to popularize this kind of sport.
In the history of Chinese Olympics, Chinese diving teams have produced a total of 33 Olympic diving champions, including Guo.
On June 5, Guo and 27 other Olympic champions were divided into three groups to carry out the Champion Charity Tour pubic welfare activity. It is expected, through their influence, more young people could feel the charm of sports and fall in love with diving.
Seeing so many old teammates again, Guo said, "I am so excited! It's so rare that after so many years, I can meet so many seniors and juniors at the same time."
"I hope that we will continue to hold such public welfare activities so that more people will fall in love with diving," Guo added.
Looking back on her diving career, for Guo, it turned out to be a valuable asset in her life that she did not win the championship until her third Olympic Games in 2004.
"The first time I participated in the Olympics, I was only 15 or 16 years old. I didn't know what was going on. I stood on the platform and suddenly forgot how to do things. I didn't even know where I was and who was I. But, it was still a precious experience," Guo said.
"Competing in my 2nd Olympics at Sydney in 2000, I thought I could win the championship this time. But I failed again. There were four gold medals in my team, but none of them were mine. I cried, and wanted to retire at the end of the Game," Guo said.
"It was Guide Zhou and Coach Zhong who encouraged me to keep going a little longer," Guo added.
"What I want to say is that failure is not something to be afraid of. On the contrary, we can learn a lot from it. Stand firmly and fight steadily to lay a solid foundation. This has made me who I am today," Guo said.
It was persistence that allowed Guo to win four gold medals in the 2004 and 2008 Olympic Games, and finally become the Queen of Diving.
Speaking of her partner of previous competition, Wu Minxia, Guo said, "We are partners, but we also are competitors. We compete with each other every day."
"When I saw Wu dive well, I would work harder and dive better than she did. Without Wu, I might have slacked off and wouldn't have been able to win the championships," said Guo.
Finally, Guo shared her secret to success with the young athletes by saying, "If your young teammates are struggling with setbacks, you have to work harder. Only if you stick to it, can you see the light."
(Source: Xinhua/Translated and edited by Women of China)