Sichuan athlete Ren Qian competes in the women's 10-meter final at the 2018 FIFA World Cup and Asian Games Diving Event qualifying competition. [Xinhua]
In the two-day qualifying competition for the 2018 World Cup and Asian Games diving competitions, Shi Tingmao, Chen Aisen and Cao Yuan all got good scores and were therefore eligible for the World Cup.
A total of 29 top domestic players from 13 units participated in the contest. In the nine events, Shi Tingmao and Wang Han ranked top in the women's 3-meter board.
Zhang Jiaqi and Si Yajie led the women's 10-meter platform.
Peng Jianyi and Chen Yiwen ranked first in the men and women's 1-meter boards respectively.
Before that, the first leg of the qualifying competitions was held from February 9 to 10.
Shi thanked all those who had supported her, "What is more important than the scores is to find confidence. Thank you for your help."
On the women's 10-meter platform, Zhang, 14, was in a good condition and far ahead of her other rivals.
As the chairman of Chinese Swimming Association and the coach of the China diving team, Zhou Jihong was satisfied with the performance of the athletes in the second events.
The FINA Diving World Cup is held every two years. It will be held in Wuhan, central China's Hubei Province, from June 5 to June 10 this year.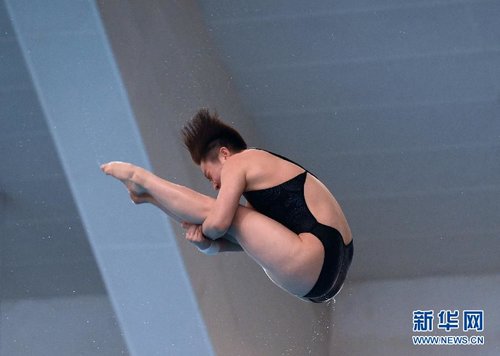 Sichuan athlete Si Yajie competes in the women's 10-meter final. [Xinhua]
(Source: Xinhua/Translated and edited by Women of China)