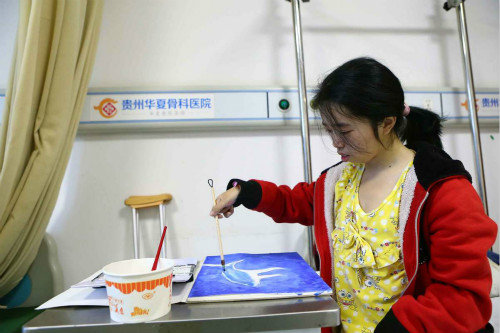 Li Maoqin draws a gouache while in hospital.
Painting may be a heartwarming hobby for many, but for 27-year-old Li Maoqin, it is a life-changing one.
Having suffered from chronicle rheumatoid arthritis since infancy, Maoqin, a native of Southwest China's Guizhou province, has been given hope of standing for the first time in her life, thanks to a number of surgeries in early January. She was able to pay for these surgeries by selling her paintings online.
Born into a rural family in the province's Kaiyang county, Maoqin showed an unusual unwillingness to walk at the age of two, and she was diagnosed with the disease one year later, according to her father, Li Fangzhong, a 50-year-old farmer.
Despite relentless efforts visiting hospitals and doctors, both Western and traditional Chinese, as well as spending all his family's savings, Fangzhong's eldest daughter remained bedridden and dependent on others' support. The family gave up when she was aged 12.
She then began painting, mostly cartoon characters she saw on television. Through immersing herself in the world of animated figures from Chinese folk legends and water colors, the girl, who weighs only 28 kilograms, manages to stay positive and find meaning in life.
The family were given renewed hope last year when Maoqin's mother went to a local hospital for a checkup and heard about a similar case to her daughter, along with a new way of treating her condition.
According to Li Guishan, an orthopedic doctor at Huaxia Hospital who performed on the girl, her surgery went well, although it may take one year for her to be able to stand independently and move around. The surgery replaced the girl's stiff joints, and now a variety of physical therapies are required for follow-up treatment.
With the help of the hospital, which offered to perform the surgery before payment, an online fundraising campaign kicked off the first day post-surgery to cover medical expenses.
That's where the paintings come in.
Three paintings have been sold in less than a week, in exchange for 800 yuan. Some strangers have been wiring money before Li even finishes the paintings.
"It's really encouraging to be overwhelmed with such kindness, which is sure to help her stand up sooner," said Li, the father.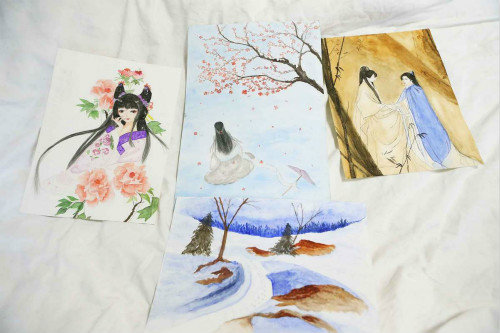 Ancient Chinese cartoon characters by Li Maoqin
(Source: chinadaily.com.cn)