Chinese educationist Yu Yi [whb.cn]
On August 20, Shanghai Library hosted the release ceremony of the latest book by senior education expert Yu Yi, who helped develop the country's Chinese language teaching methods and textbooks since he started teaching in the 1950s onwards.
The Complete Works of Yu Yi was published by Shanghai Educational Publishing House.
The earliest writings in the book are from 1951, and the collection contains her main contributions in the fields of basic education, including teaching theory, Chinese education and teaching, student's moral education, training of young teachers and professional growth of Chinese teacher.
Research on Chinese Education
When she first became a teacher in her early days, Yu discovered many problems in practice, and pointed out drawbacks in Chinese teaching. Ever since the 1960s, Yu has held the view that primary school and middle school education should become more specific, and that Chinese teachers should be pioneers in education research.
Yu was among the first generation of Chinese teachers after the founding of People's Republic of China, and her teaching career has been keeping in step with China's educational development.
"As a Chinese teacher at the grassroots level, my thinking about Chinese is the product of the era," Yu said humbly.
Most of Yu's works were produced to meet practical teaching needs.
Specifically, her lesson plan anthology became part of a new Chinese textbook in 1984.
At that time, teachers were unfamiliar with modern course books and there was a lack of reference books for teaching. Therefore, Yu sorted out her lesson plans, reflections, students' questions and inspiring answers, and published them accordingly.
Platform for Young Teachers
Yu also focused on the cultivation of young teachers.
In 1987, Yu helped to establish Shanghai Teachers Research Society, which hosted events to present new ideas and promote the exchange of teaching experiences.
Meanwhile, Yu is concerned about obstacles that hinder teachers' growth and development.
Accordingly, she advises teachers to read widely, and provides new thoughts to their development.
The Publication of The Complete Works of Yu Yi is a landmark in China's basic education and culture publishing causes, said experts.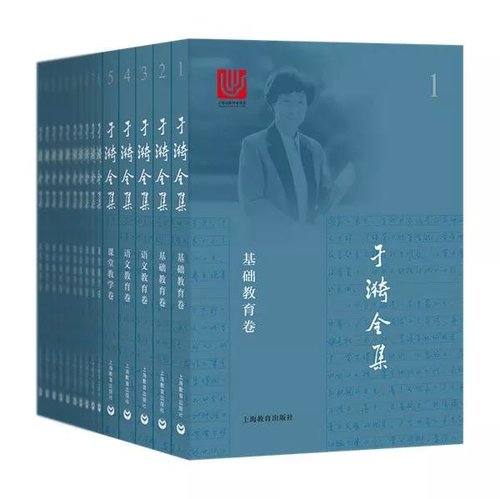 The cover of The Complete Works of Yu Yi [whb.cn]
(Source: whb.cn/Translated and edited by Women of China)