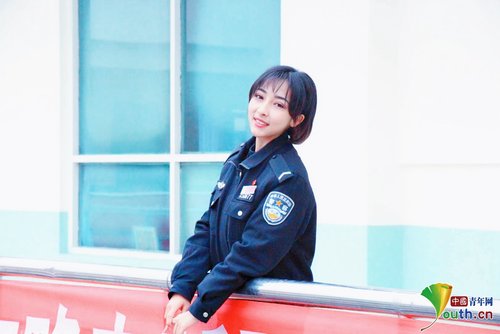 Kayire Maimaitijiang [youth.cn]
The daughter of a security official who was killed carrying out his duties in the Aksu District of northwest China's Xinjiang Uygur Autonomous Region has decided to continue her father's cause and fight for national security and stability.
Kayire Maimaitijiang is the daughter of Maimaitijiang Tuohuniyazi, who was formerly deputy director of the public security bureau in Aksu.
Several years ago, he sacrificed his life during an anti-terrorist operation.
Tuohuniyazi took the lead during raids in the 1,300 square kilometers mountainous areas. He went door to door among local herdsmen, thoroughly tracking down the members and family of a terrorist group in the region.
During one investigation, he was trying to find out the whereabouts of some rioters. On the day of the incident, according to herdsmen, Maimaitijiang led the police and herders into Baicheng County in search for a group of most notorious terrorists.
The terrain was full of ravines and dense forest. The group lost contact with four herdsmen. When Maimaitijiang was trying to find them, he got attacked by terrorists hiding in caves. He fought with them fiercely.
As a result, he was fatally wounded. During the last minutes of his life, he denounced the terrorists, sternly warning them to surrender, but ended up being brutally killed.
Before his death, the last words he said were: "Herders are innocent. Kill me if you insist, but set them free!"
Kayire was the last in her family to learn of her father's death. A week later, she made the most important decision in her life: to become a police official and devote herself to the country.
In early 2016, Kayire transferred to Xinjiang Police Academy from Xinjiang Agricultural University, to specialize in crime investigation.
At the outset, the biggest challenge facing her in the police academy was physical training. Yet, despite the difficulties, she managed to overcome the barrier with inspiration from her father to move forward on the road to safeguard national security and stability.
For now, Kayire has turned sorrow into the belief of being an outstanding policewoman.
Kayire Maimaitijiang [youth.cn]
(Source: youth.cn/Translated and edited by Women of China)