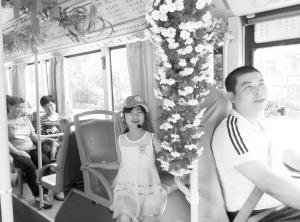 Cheng Yaqin works as a conductor with her bus driver father. [Yanzhao Evening News]
A bus driver's daughter from the city of Handan in north China's Hebei Province greeted this year's Father's Day in a special way by working as a conductor on June 18.
Cheng Yaqin, 7, is a Grade One student at a local primary school.
Last week, she heard from her classmates that Sunday was Father's Day so she decided to prepare a present for her father.
However, as her parent leaves early in the morning and returns late at night, and she had no money to buy a gift, Cheng came up with the idea of working as a conductor that day to accompany her father over the festival.
Both Cheng's parents are bus drivers and have served at their posts for eight years. They get up at 5 a.m. every day and get back home at around 7 p.m.
More often than not, Cheng spends most of her time with her teachers. Even on Children's Day, her parents often could not squeeze in time to accompany her.
"This is the best Father's Day gift I've ever received," said Cheng's father.
"She's so thoughtful at such a young age. I feel I owe her a lot."
The person in charge of Bus No. 26 where Cheng's father works said that Cheng's parents are busy and have little time to look after the child, especially on weekends and holidays when transportation staff are busier.
Therefore, the bus company allowed Cheng to work on the bus for a day, so that the daughter and father could spend a special and happy Father's Day together.
(Source: Yanzhao Evening News/Translated and edited by Women of China)