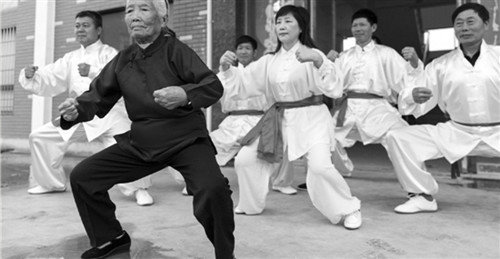 Zhang Hexian (front) has daily Kung fu practices with locals in Ninghai, east China's Zhejiang Province. [chinanews.com]
Zhang Hexian, 93, a renowned Kung fu master who started training at the age of three, keeps physically fit and rarely need to visit doctors, was recently the focus of a report in Qianjiang Evening News.
Zhang lives a disciplinary and peaceful life in Ninghai, east China's Zhejiang Province. Often, she gets up at 4 a.m. and practices Kung fu for about two hours. Afterward, she cooks herself breakfast.
Zhang usually helps in the fields late in the morning and walks a distance of three kilometers to the market in another adjacent town, shopping for food, and then walks back home in the afternoon.
Diseases or illness are seldom bothering Zhang. Even if she catches a cold sometimes, Zhang usually has a quick recovery after a good and sound sleep.
Zhang has a healthy appetite for food, especially seafood, as she can eat up a whole plate of eight crabs by herself in summer. She refuses to take healthcare products. Ordinary food, she insists, is enough for her body.
Zhang's 53-year-old son Feng Chuanyin says his mom always crosses her legs while sitting up straight, which is a habit Zhang has kept for many years.
There are several appliances in her yard for daily Kung fu practice. She always gives tips to locals on Kung fu during her morning trainings.
Zhang says she was born into a family of Kung fu, in which her ancestors founded a faction of bearing their family name Zhang in the area.
It is alleged that the faction of Zhang Kung fu is inclusive no matter what the gender, age or name of the person, even strangers can join the daily practice.
Zhang believes that the aim of practicing Kung fu is to build a strong body and fight against evil. It is not a tool for abuse or for attacking others. In addition, Zhang is always willing to help people in need, gaining a respectful reputation in town.
Right now, this grandma is delighted to see the birth of her family's fifth generation, which is considered to be her biggest happiness at the moment.
(Source: Qianjiang Evening News / Translated and edited by Women of China)