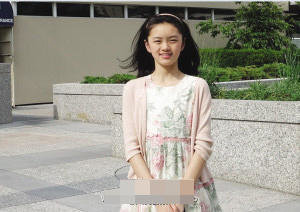 Guo Wenjing, a girl from Hangzhou, east China's Zhejiang Province, was recently admitted to Harvard University as an undergraduate. [Guo Wenjing]
Guo Wenjing, a girl from Hangzhou, east China's Zhejiang Province, recently won a place at Harvard University as an undergraduate with her prowess at programming and excellence in various fields.
"Hi, Mr Qiu, it's Wenjing. I have been admitted to Harvard! Thanks for your support and encouragement over the years!"
Qiu Mingfeng, a teacher at Hangzhou No. 2 Senior High School, got the text message on December 11. Exhilarated as he was by the news, Qiu was not surprised. "She looks delicate and sweet, but actually she is very tough and motivated, always exploring things she likes."
As Qiu commented, Guo explored and achieved great results in many fields. She won first in the national informatics Olympiad competition during her first year in high school. She was once invited by MIT to participate in a programming tournament, beating contestants from Harvard, Stanford and Carnegie Mellon University, collecting second prize. In 2014 and 2015, she won two golds at the Olympiad in Informatics in the U.S. In mathematics competitions in both China and the States, Guo also scored among the highest marks.
Aside from academic achievements, Guo has also taken up multiple activities in the meantime, such as sailing, skiing and emergency rescue. She joined the debating club on campus and took part in an English debate in Shanghai. In addition, she attended summer camps of famous universities like Berkeley and Harvard itself.
At 15, Guo traveled by herself to the U.S., to tutor local kids in maths, getting paid U.S. $2,000 to do so.
What is more remarkable, she even jointly started a programming club in the U.S., teaching American kids whenever she had spare time.
Tang Meijie, secretary of Harvard in China, lavished praise on Guo. "For all the students I interviewed over the past six years in China, she is one of the best. She has mastered excellent computer skills, on par with any of the top U.S. female programmers for her age; she got full marks in five subjects in the college entrance exam; she speaks fluent English; and, she is beautiful: almost perfect!"
Guo Wenjing and an American girl she tutors [Guo Wenjing]
(Source: Beijing Times/Translated and edited by Women of China)