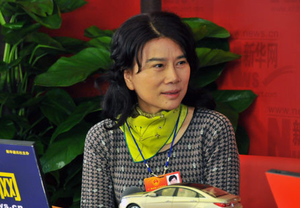 Dong Mingzhu interacts with netizens on March 6, 2012. [Xinhua/Li Longqiang]
President of Gree Electric Appliances Inc. Dong Mingzhu said that her nationally documented bet with Lei Jun, president of Xiaomi Inc., has been canceled in light of his company's recent involvement in the real estate industry.
Dong, who is known as an outspoken female entrepreneur in China, said this in an interview while attending the Third Session of the 12th Guangdong Provincial People's Congress as a representative of the National People's Congress (NPC) on February 9 in Guangzhou, capital city of south China's Guangdong Province.
"He [Lei Jun] nullified the bet, if you check the changes to his company," said Dong. "It is said that he has entered the real estate industry, which does not meet the requirement of our bet, because we only bet on our products."
The bet, worth 1 billion yuan (U.S. $160 million), dated back December 2013, when Lei Jun, who founded Internet company Xiaomi Inc. in 2010, said Xiaomi would outdo air conditioning juggernaut Gree Group in business volume in five years.
Right after Dong's remarks, Lei responded that Xiaomi Inc. is not involved in real estate and has no plan to enter the industry at all.
In 2014, Xiaomi Inc. sold 61 million smartphones, more than three times its 2013 total. Xiaomi Inc. outshined its rivals and became the world's fifth-ranked smartphone supplier, while Lei rose to become one of the icons of China's burgeoning Internet economy.
Reports showed that Xiaomi's turnover last year was 74.3 billion yuan (U.S. $11.88 billion), compared with Gree's 140 billion yuan (U.S. $22.38 billion). Despite the big gap between the two companies, Lei said the gap has narrowed fast and that they will surpass Gree within one or two years.
However, Dong repeatedly said last year that she would not lose the bet. She thinks Xiaomi's breakneck growth is unsustainable without the underpinning of real industrial fundamentals and that Xiaomi is too dependent on outside manufacturers, with any disruption in their operations having the potential to ruin the brand and, ultimately, the company.
(Source: South Metropolis Daily / Translated and edited by Women of China)