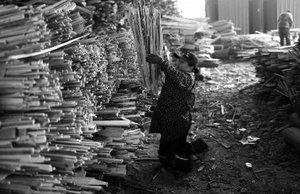 Hu works in a wood plant. [hsw.cn]
Recently, a woman from south China's Guangxi Zhuang Autonomous Region has touched the online netizen community through her story of relentless perseverance: Although disabled, she goes to work each day earning a living for herself by "walking" on her bent knees, amazing people with her independence and strong will.
Hu Fenglian, 50 years old, is a villager in Longsheng Ge Nationality Autonomous County in Guangxi. When she was only six months old, she was in a horribly unlucky accident in which she fell into a burning stove and suffered serious burns to her two feet. For this, she had to have a portion of her legs — 10 centimeters below the knees — amputated forever and now can "walk" around only by bending her knees. With the disability, she looks only 1.2 meters tall. She has gotten help from the local disabled persons' federation, from which she has tried to adopt the use of artificial limbs; but this did not seem suitable for her. "My limbs would ache and become inflamed after using the artificial limbs." And so she just kept on "walking" on her knees.
Life is hard to her not only because of her physical limitations but also because of other circumstances in her life. Hu got married to her husband at the beginning of the 1980s and in 1982 gave birth to their daughter. However, when the baby girl was only four months old, Hu's husband left the family without a word and never returned after that. Hu had to undertake all of the family's responsibilities by herself. She, however, has no complaints or thoughts of giving up but has only determination and high hopes for the future. She made up her mind that she would raise her child by herself no matter what hardships she would come to bear.
By having to use her knees to walk, Hu endures more hardships than the common single mother. Hu has supported the family by growing vegetables, feeding pigs, doing handmade scissor works and even by working on construction plants. Because of her disability, there are some work tasks that she is unable to perform, such as those that require the worker to stand in water. "So except for cultivating land, I have tried almost any work that rural farmers have done."
Depending on only herself, Hu brought up her daughter, who got married in 2004 in a far-away area.
After the marriage of her daughter, Hu bore less responsibility, but she kept on working. She said she never thought of other ways of making a living, such as begging, for she thought, "Although I have no feet, I have hands. I am capable with my hands and am capable of making a life for myself."
Hu also impresses those around her with her constant, optimistic smile. Wherever she goes, she can be seen happily laughing when talking about something fun or amusing with her coworkers.
Now she is working in a wood plant. When praised by her coworkers for her strong will, she would always say, "There is nothing special about what I do. It's almost the same as a normal person — just on knees."
(Source:hsw.cn/Translated and edited by Women of China)