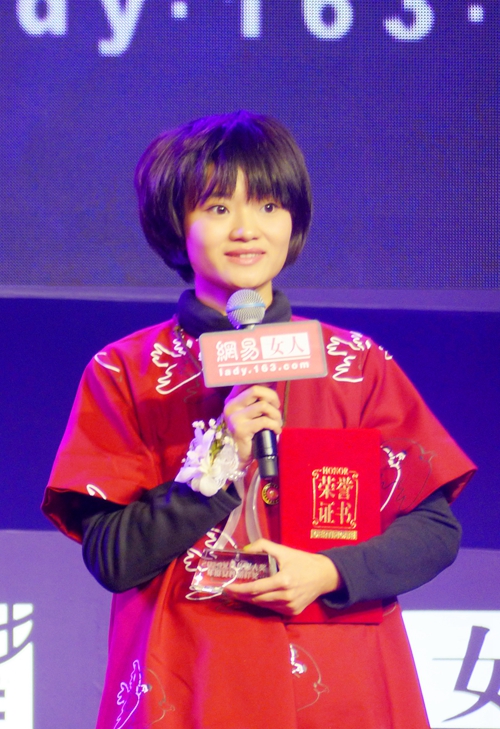 Feminist Xiao Meili wins the Role Model Award at the 2015 Women's Media Awards, held in Beijing on January 12. [Women of China / Yao Yao]
Young feminist Xiao Meili won the Role Model Award at the 2015 Women's Media Awards in Beijing on January 12 in recognition of her efforts to eliminate gender bias and raise public awareness for the ongoing issue of sexual assault against women.
Xiao is best known for her 2,000 km walk from Beijing to Guangzhou, capital of south China's Guangdong Province, in late 2013 to raise awareness for sexual abuse.
Born Xiao Yue in southwest China's Sichuan Province in 1989, Xiao has been promoting feminism through various events and initiatives since she was a student at the Communication University of China, in Beijing.
As the first and only annual awards ceremony centered on gender equality, the Women's Media Awards said, "Xiao, a 24-year-old girl, spent more than 100 days and nights covering the distance of 2,000 km from Beijing to Guangzhou. By traveling on foot, she set out to change the bias deeply rooted in people's minds, calling on the people to lay their blame on the sexual-abuse offenders instead of the victims."
In her speech at the award ceremony, Xiao said, "When it comes to cases of sexual assault, I have observed the unfortunate reality that many are inclined to blame the victims, for their revealing clothes or improper behavior. It is terribly misguided criticism."
"Through my efforts, I am telling everyone that to prevent sexual abuse and build a safer society, we must protect women and empower women, not shelter them," said Xiao to the awards show audience.
In 2014, Xiao held 35 feminist seminars, workshops and meetings as well as 4 exhibitions, to discuss and share with attendees her experiences and what she learned in her travels across the country between 10 cities the year before. With the funds she raised along her cross-country trek, Xiao established the Meili Foundation to sponsor and hold feminist events.
For this year, Xiao plans to collect the personal stories of Chinese women and record their tragic experiences of sexual abuse.
"My walk has ended. But as for the pursuit of gender equality, there is still a long way for us to go," said Xiao.
The Women's Media Awards was launched in 2010 by NetEase — a leading China-based Internet technology company that pioneered the development of applications, services and other technologies for the Internet in China — and jointly hosted by the United Nations Entity for Gender Equality and the Empowerment of Women (UN Women).
This year, it presented 15 awards to 14 individuals and one organization, to recognize their contributions to women's development and the promotion of gender equality in China.
Julie Broussard, the national program manager of UN Women China, said that every single person who stepped forward to accept an award at the ceremony is a role model for all people, for their efforts in challenging the gender stereotypes surrounding the role of women in society.
In his speech at the awards, NetEase Vice President Chen Feng said, "The Women's Media Awards, in its fifth year, has recognized over 40 women role models."
"[All the winners] are independent and unrelenting. Through their strong values, they are demonstrating a high degree of social responsibility and showing their faith in life," said Chen.
Song Wenyan, deputy director of the International Liaison Department of the All-China Women's Federation (ACWF), along with diplomatic envoys from the European Union, the UK, Austria, Lithuania and Greece, presented awards to the winners.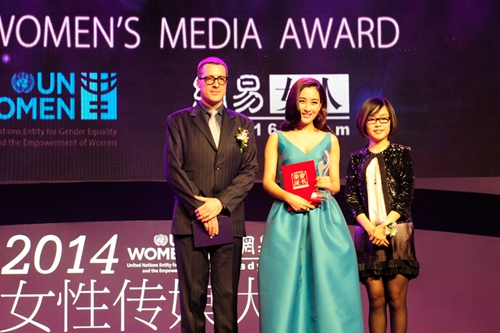 Actress Ma Su (M) wins Fashion Woman of the Year. [Women of China / Fan Wenjun]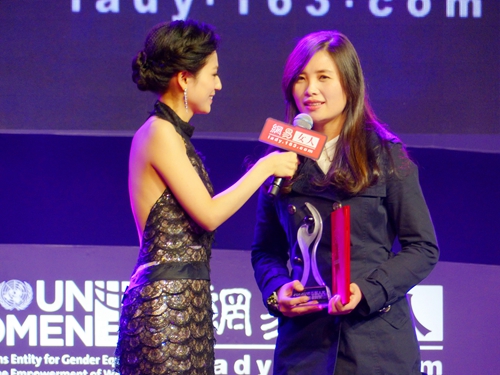 Yi Ran (L) wins Best Employee in China. [Women of China / Yao Yao]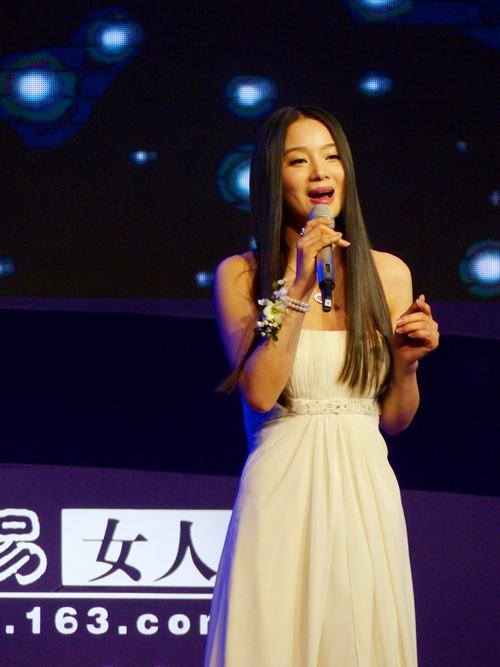 Vocalist Pan Xiaofen sings Unafurtivalagrima at the 2015 Women's Media Awards, held in Beijing on January 12, 2015. [Women of China / Yao Yao]
Julia Broussard, Country Program Manager of UN Women China, gives a speech at the 2015 Women's Media Awards, held in Beijing on January 12, 2015. [Women of China / Fan Wenjun]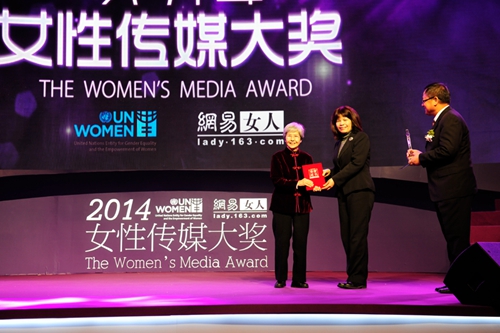 Song Yanwen (M), deputy director of the International Liaison Department of the All-China Women's Federation (ACWF), presents an award to one of the winners. [Women of China / Fan Wenjun]