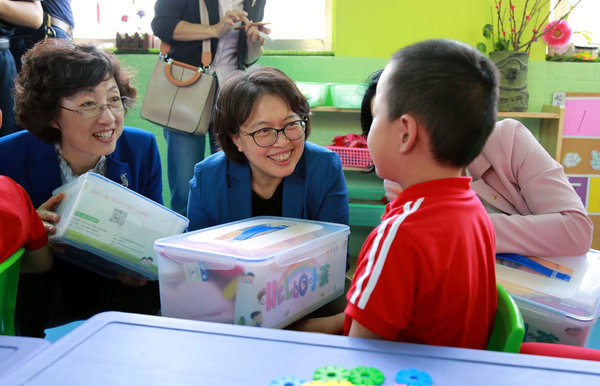 Huang (2nd, L) talks with a child in a kindergarten in Yinan County, Shandong Province. [China Women's News]
Huang Xiaowei, Secretary of the Leading Party Group of the All-China Women's Federation (ACWF) and Vice-President and First Member of the Secretariat of the ACWF, visited the old revolutionary base area in Yimeng Mountain in East China's Shandong Province from May 19 to 21.
She visited children from poverty-stricken families and those whose parents lived in large cities as migrant workers and had left their offspring in the care of their grandparents, or left-behind children, ahead of International Children's Day on June 1.
Huang presented gifts to and talked with children in a kindergarten of Houyuzi Community in Yiwen Town, Yinan County. The kids are mostly left-behind children from nine nearby villages.
She encouraged the children from poverty-stricken families to be independent and self-reliant, work hard and contribute to the country and society while talking about life, study and ideals during her visit to their home.
Huang also inspected the work of women's federations in villages, communities and enterprises. When meeting the heads and executive committee members of the federations, she stressed that this year marks the 70th anniversary of the founding of the People's Republic of China and urged motivating of women to actively participate in the celebrations with various forms and play their role in promoting affection for home and the country.
In a memorial hall built to honor Red Sisters-in-Law who had helped the soldiers led by the Communist Party of China (CPC) fight against Japanese aggression, Huang was touched by their stories of the past, saying that the Red Sisters-in-Law spirit is a vivid example to educate and guide women to persevere in following the Party's leadership.
She also urged that the "gene" of Yimeng Red Sisters-in-Law should be inherited from generation to generation and women should be motivated to make contributions in the new era.
In a domestic service company in Jinan, capital city of Shandong Province, Huang was briefed on its development and inspected the company's training base for elder and baby care and house keeping.
A visit to a domestic service company in Jinan, capital city of Shandong Province. [China Women's News]
She hoped the employees in the company will take part in the Family Happiness and Well-Being Campaign launched by the ACWF and continuously improve their services.
Huang spoke highly of the efforts by women's federations and their achievements under the leadership of the CPC Shandong Provincial Committee.
(Source: China Women's News/Translated and edited by Women of China)