Zhang Xiaolan speaks at the meeting. [Women of China/Fan Wenjun]
The All-China Women's Federation (ACWF) held a meeting in Beijing on September 28 to promote a life-long learning project for women in several pilot cities across the country.
Zhang Xiaolan, vice-president and member of the Secretariat of the ACWF, addressed participants at the conference.
The project aims to study and implement a series of keynote remarks by President Xi Jinping; meet the requirements of the Communist Party of China Central Committee on mass organizations; and, carry out women-related work on the Internet, said Zhang.
The initiative serves as a welcoming approach to assist women in improving their qualities and achieving their dreams in the Information Age.
Women's federations at different levels should list the project as a key online service, and enhance ideological leadership and social publicity in courses which highlight core socialist values.
Furthermore, they should promote the project in pilot cities where open-mindedness and continuous efforts can advance the development of the overall mechanism featuring both online and off-line learning resources, Zhang urged.
Vice-President Liu Chen from the Open University of China said the university should take responsibility in offering social services and promoting the transformation and upgrading of the TV education system.
The university is also committed to deepening educational reform and exploring novel mechanisms to provide distinctive quality education, Liu added.
The project was launched last September by the ACWF and was jointly organized by the university and the Publicity Department of the ACWF.
Sticking to innovation and user experience as its core, the new learning platform is a combination of three networks: the instant-messaging app WeChat, a dedicated application on mobile devices and a PC version respectively.
Statistics indicate the platform has so far involved 186 courses and 1,845 audio recordings lasting around 330 hours. Nearly 70,000 people have registered on the platform which is the number one national, women-exclusive online learning brand so far.
During the meeting, women's federation officials shared the achievements made over the past year in pilot cities.
The seven cities participating in the first round are: Beijing, Shanghai, Tianjin, Chongqing, Hangzhou, Chengdu and Shenzhen.
The second round of pilot cities will be: Shijiazhuang, Hohhot, Nanjing, Zhengzhou, Wuhan, Lanzhou, Fushun, Qingdao and Mianyang, said a spokesperson.
The sponsor will spread its influence among pilot cities so that the combination in terms of both online and off-line learning can focus on women's study with improved services.
Attendees watch a video about managing emotions. [Women of China/Fan Wenjun]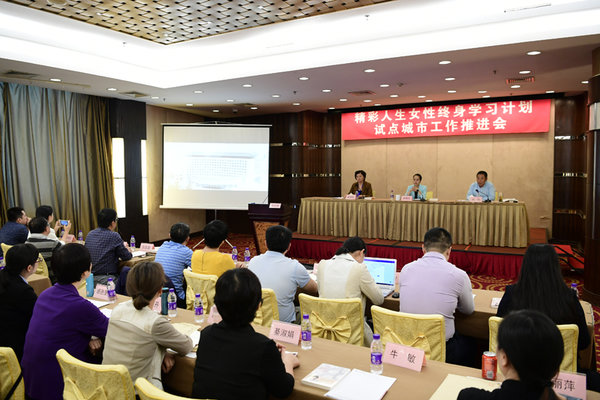 Officials attend the meeting to promote women's life-long learning projects in pilot cities. [Women of China/Fan Wenjun]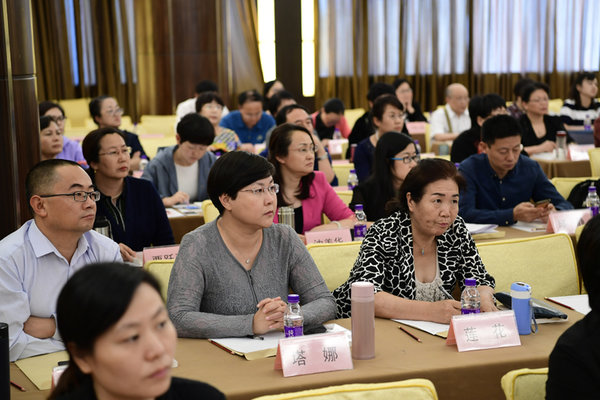 Attendees at the meeting [Women of China/Fan Wenjun]
Officials listen to speeches during the conference. [Women of China/Fan Wenjun]
(Women of China)