Zhao Donghua, vice-president and member of the Secretariat of the All-China Women's Federation (ACWF), speaks at the meeting. [Women of China/Zhang Jiamin]
Since the project of caring for rural left-behind and migrant children was piloted in different regions two years ago, a lot of improvements have been made, but there is still a long way to go to effectively solve the problems of this group of children, Zhao Donghua, vice-president and member of the Secretariat of the All-China Women's Federation (ACWF), has said.
Rural "left-behind children" refers to children whose parents have left their home in rural areas to find better-paying jobs in cities. According to the latest survey conducted by the ACWF, there are over 61 million left-behind children in rural areas in China living under the care of relatives or by themselves.
Zhao made her statement during a meeting held in southwest China's Chongqing Municipality between April 22-23. The meeting aimed to summarize the work done to help rural left-behind and migrant children in China's pilot regions, to thoroughly implement the tasks and requirements of improving the care of rural left-behind children and further the service system put forward at the 3rd Plenary Meeting of the 18th Communist Party of China (CPC) Central Committee.
Zhao pointed out that over the past two years, the pilot regions have established their work mechanism, improved their policies and carried out various activities, making much progress in promoting the pilot work and gaining many experiences. The experiences include sticking to the work pattern of government domination and social participation, carrying out activities in a normal and long-term way to build surroundings of caring for this group of children in the whole society, and uniting schools, families and communities to work together.
Zhao also emphasized that there are still some weak links in their work on caring for left-behind and migrant children, and said women's federations at different levels should attach plenty of importance to this work in the future, engage closely with educational departments, summarize experiences based on previous work and fulfill their responsibilities. They should also voluntarily implement government public services, cultivate more social institutions, raise their overall service levels, include the services in the community's overall development plans, and provide more direct and effective services to left-behind and migrant children.
Zhao also put forward some specific requirements for the work, including building children's activity centers, establishing a care network connecting schools, families and communities, enhancing guidance on family education, and publicizing laws and regulations on safeguarding minors' legal rights and interests.
Wang Dinghua, director of the Elementary Education Department of the Ministry of Education, said in his speech that as left-behind children and migrant children face a different set of problems, the emphasis of their work should also vary. The work of caring for left-behind children should focus on improving educational conditions and raising educational standards, while the work of caring for migrant children should focus on balancing urban and rural educational development, expanding educational resources in townships, meeting the diverse demands for education, and enhancing policy guidance and implementation.
Zhang Shifeng, director of the Social Affairs Department of Ministry of Civil Affairs, said in his speech that the system of minors' guardianship should be improved by putting home-monitoring and intervention at its core, exerting school's and society's role in caring for left-behind and migrant children, and promoting pilot work for protecting minors.
Representatives from pilot regions in Shanghai's Minhang District, Shandong Province's Sishui County, Henan Province's Tongxu County, Hunan Women's Federation, and Chongqing's Dianjiang County shared their work experiences.
The meeting was presided over by Zhang Xiaoyuan, director of the Department for Children of ACWF. Tan Jialing, deputy mayor of Chongqing Municipality, delivered a speech at the meeting.
In attendance at the meeting were presidents of women's federations and directors of children's departments at different levels from 31 provinces, regions and municipalities, Party leaders and presidents of women's federations in pilot regions, as well as staff from children's activity centers.
On the afternoon of the same day, Xu Xianglin, professor of the Economics Department of the Party School of the Central Committee of CPC, delivered a report on promoting urban-rural integration and enjoying the achievements of modernization. Afterwards, a training session on children's activity centers was also held among the staff.
A meeting was held in southwest China's Chongqing Municipality between April 22-23, to summarize the work done to help rural left-behind and migrant children in China's pilot regions, to thoroughly implement the tasks and requirements of improving the care of rural left-behind children and further the service system put forward at the 3rd Plenary Meeting of the 18th Communist Party of China (CPC) Central Committee. [Women of China/Zhang Jiamin]
Wang Dinghua, director of the Elementary Education Department of the Ministry of Education, speaks at the meeting. [Women of China/Zhang Jiamin]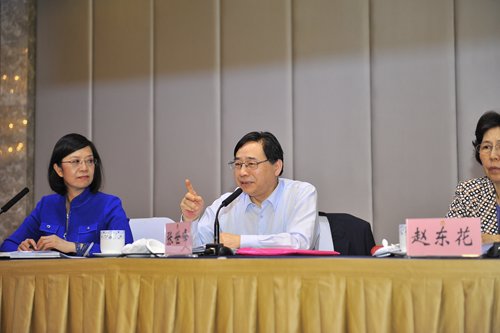 Zhang Shifeng, director of the Social Affairs Department of Ministry of Civil Affairs, speaks at the meeting. [Women of China/Zhang Jiamin]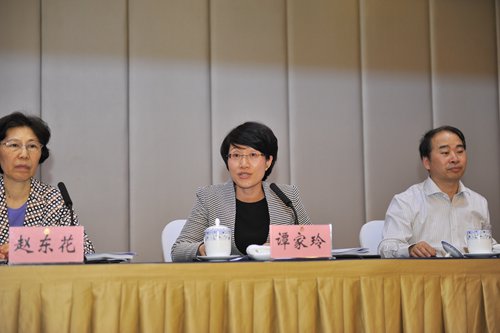 Tan Jialing, deputy mayor of Chongqing Municipality, speaks at the meeting. [Women of China/Zhang Jiamin]
A meeting was held in southwest China's Chongqing Municipality between April 22-23, to summarize the work done to help rural left-behind and migrant children in China's pilot regions, to thoroughly implement the tasks and requirements of improving the care of rural left-behind children and further the service system put forward at the 3rd Plenary Meeting of the 18th Communist Party of China (CPC) Central Committee.[Women of China/Zhang Jiamin]