Barbara Woodward, British Ambassador to China, speaks during the event. [Women of China/Zhang Jiamin]
The British Embassy in Beijing, in collaboration with the equal rights organization UN Women, held the final event in its month-long campaign called Be Y♀urself, on March 31, to discuss gender pay discrepancy and participation in sport.
Over 100 people, including Olympic table tennis champion Deng Yaping, and world champion trampoline gymnast He Wenna, attended the event, along with representatives from media, business and civil society circles.
In 2014, BBC Sports study revealed that in around 30 percent of sports, men are paid significantly more than women, and are awarded larger sums of prize money, with football singled out as being one of the most unequal examples. Organizers hoped to address some of these issues and talk about ways in which to promote a more balanced approach to promotion and incentives.
During the event, Barbara Woodward, British Ambassador to China, Julie Broussard, Country Program Manager of UN Women China, and Xue Li, General Secretary of the Center for Sport and Culture Development at the State Sports Administration, delivered speeches, respectively, to emphasize the importance of addressing every aspect of the topic.
Further panelists who participated in the discussion were Vicky Song, the first Chinese woman to succeed in circumnavigating the globe; speed-skater Ye Qiaobo, who won 14 world championships and three Olympic medals; British female former-boxer Michele Aboro; and, Chinese international footballer Zhang Chengdong, who plays for the men's team Beijing Guo'an and who has been a long-time supporter of women's causes.
Many attendees stressed that to help break gender stereotypes and eliminate bias given to male or female athletes it was important to seek the help of media outlets.
"Sport has played an important role throughout history. But in many games, women have only been able to watch from the sidelines until relatively recently. Female participation rates in many games are still lower than that of men. This is a situation where everyone needs to get involved and make a change," said Woodward.
"Instead of celebrating March 8th International Women's Day with a single, one-day event, the embassy decided that we would do a monthly campaign in our embassy and consulates across China. We've organized over 20 events, which engaged 1,500 participants, and over 4 million people got involved in the campaign through social media platforms. So it's been completely overwhelming. I hope that like many other campaigns that support women's empowerment, such as HeForShe and Inspiring Women, we will be able to continue supporting the promotion of equality. And more importantly, to make women realize the importance of being themselves and being confident," Woodward concluded.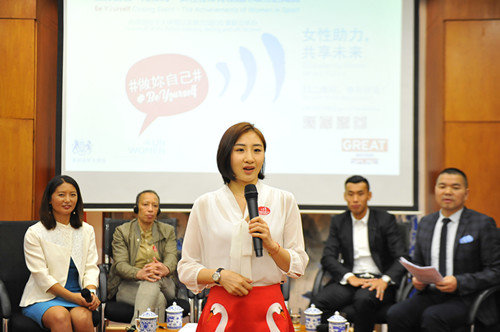 He Wenna, world champion trampoline gymnast and Olympic gold medalist, speaks during the event. [Women of China/Zhang Jiamin]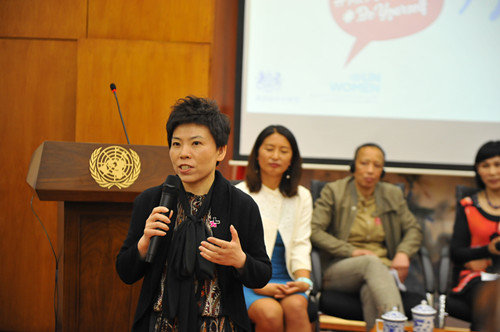 Deng Yaping, the world-famous Olympic table tennis champion, speaks during the event. [Women of China/Zhang Jiamin]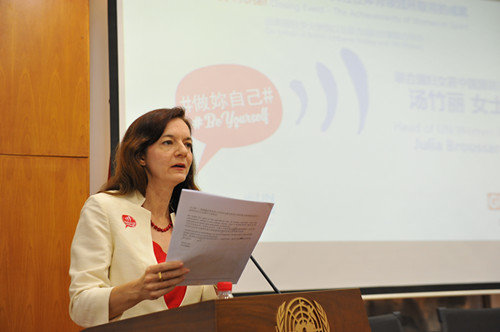 Julie Broussard, Country Program Manager of UN Women China, speaks during the event. [Women of China/Zhang Jiamin]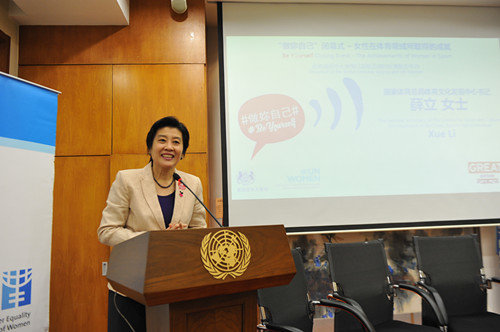 Xue Li, General Secretary of the Center for Sport and Culture Development at the State Sports Administration, speaks during the event. [Women of China/Zhang Jiamin]
Ye Qiaobo, one of the most remarkable Chinese speed-skaters who have won 14 world championships and three Olympic medals, speaks during the event. [Women of China/Zhang Jiamin]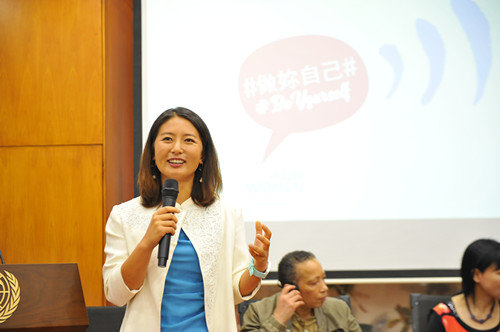 Vicky Song, the first Chinese woman who succeeded circumnavigating the globe, speaks during the event. [Women of China/Zhang Jiamin]