Hao Jingfang speaks on the sidelines of Boao Forum for Asia about youth leadership in Sanya, Hainan province, on March 24. The author engages in social activities in addition to writing science fiction. [Photo/Xinhua]
For Hao Jingfang, winner of the 2016 Hugo Award for best novelette, shifting roles is routine. She is an economist, an author and a mother.
"I've had a wide variety of interests since childhood. I've got used to doing different things," says the 33-year-old.
Although she's an established science-fiction writer by now, she's never thought of quitting her job as an economic researcher at the government-sponsored charity, the China Development Research Foundation. Based in Beijing, the work gives her the opportunity to meet many interesting people, she says.
Hao gets the time to write only after her regular working hours, which means sleeping less at night.
Her latest book, The Other Shore for Humans, which was published in November by China Citic Press, is an anthology of six novelettes on artificial intelligence and two scientific articles on the issue.
"It mainly deals with the relationship, including the conflict, between humans and AI," says Shen Chan, the book's editor.
"It will guide the readers to think about our great advantages as people and what we most value."
Hao is planning a new novel on the origins of civilizations. She says sci-fi will be her focus in the future as well, but she will also explore "realistic writing".
"I like to imagine a different world, and that's the charm of sci-fi. But I don't like to read sci-fi that only depicts a purely imagined world with no connection to reality.
"Daily life has always been an important inspiration for my writing," Hao says, adding that the characters in her award-winning Folding Beijing novelette were developed from people she met.
Hao Jingfang's latest work, The Other Shore for Humans, spotlights artificial intelligence. [Photo provided to China Daily]
Folding Beijing originally appeared in the BBS website of Tsinghua University in 2012 and was published three years later in Uncanny Magazine with an English translation by Chinese-American sci-fi writer and translator Ken Liu. It brought a breakthrough in her writing career and the top global award in the genre.
This work, which took her around "one month to plan and three days to write", tells the story of a father's struggle to send his daughter to school in a futuristic Beijing - also an allusion to the difficulties that some Chinese parents are undergoing today to ensure their children receive a high-quality education.
It was the suburban housing community where she lived then that inspired her to write the story. She found her neighbors' lives in sharp contrast with those living downtown, where she works.
"It occurred to me that in our world, some groups of people actually have no interaction with other groups, and they are not willing to learn about each other. So, I decided to write about the isolation," Hao says.
The Hugo Award came as a big surprise to her and has brought important changes to her life.
"I thought it would just be an award, noticed only by people in the field. I didn't expect it to bring this huge attention," she says.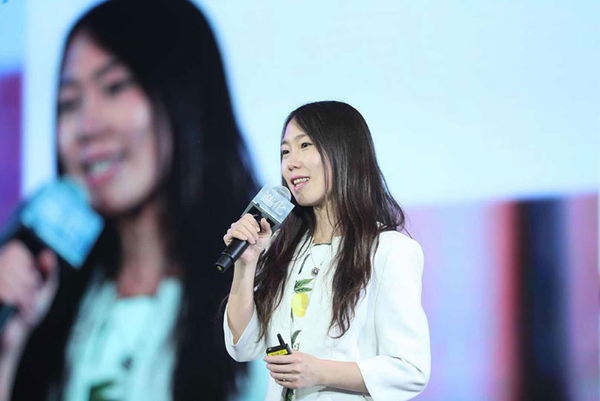 Hao Jingfang [Photo provided to China Daily]
After the award, Hao, who had an interest in poverty studies, was offered the chance to set up a program initially funded by a Chinese auto company, with the aim of educating rural children in poor areas.
The program started in Bijie city in Southwest China's Guizhou province and has been expanding. It has sent teachers to impoverished places to train local teachers as well.
Hao says writing sci-fi combines her love of science and her dream to become a writer.
Writing has been an important part of her life since she was a teenager.
Hao won the national New Concept Award for writing when she was in high school. She started writing sci-fi in 2006, when she did her physics major at Tsinghua University.
She continued her studies for her master's degree in physics and then economics for her Ph.D. at Tsinghua.
Hao developed a strong interest in astrophysics after she read a book about the universe as a child. She started reading science fiction in high school.
Hao devoted much of her time to writing novels in her university years. But to take advantage of her academic background, she started to write sci-fi then.
"Sci-fi opened a whole new world for me," says Hao.
Her stories cannot be simply generalized as sci-fi, fables or by any particular literary tag, according to Beijing-based sci-fi author Chen Qiufan.
Because they indicate her close observation and awareness of real life, Chen says.
While China has sci-fi writers such as Liu Cixin, who won the Hugo Award for best novel in 2015 for his earlier and perhaps most famous work The Three-Body Problem, the genre's appeal is still limited.
Like Hao, many Chinese sci-fi writers are employed full time in other jobs. So, writing is more a passion than career.
Speaking of the future, Hao says: "It will take time for the genre to grow here."
(Source: China Daily)