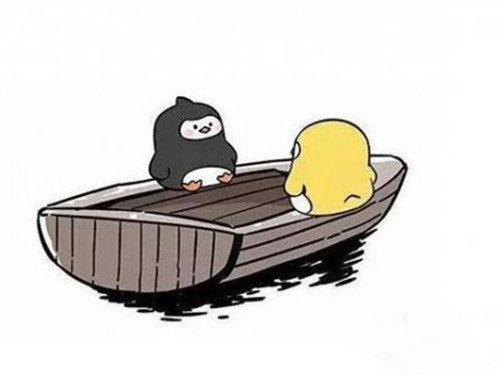 The carton image of the hot words "Friendship and the Friend Ship", created by cartoonist Nandongni, is popular on China's online social media platform, Weibo. [Xinhua]
Beijing Language University recently released seven categories of popular words from China's mainstream newspapers, with each containing a Top 10 and covering the first six months of 2016.
Yang Erhong, director of the National Language Resources Monitoring and Research Media Center at the university, stated that word selection is based on the university's dynamic circulation corpus (DCC), researching the most popular and most frequently used words from all the articles released between January 1 and June 30, on the nation's top 17 major newspapers, including the People's Daily, Legal Evening News, and Beijing Youth Daily.
This statistic analysis has been carried out since 2003, depicting an image full of words from China's media, Yang added.
Category One: Comprehensive Analysis
The 13th Five-Year Plan (2016-2020)
A comprehensive program concerning China's economic and social development in the next five years.
Party Building Instructions
The Central Committee of the Communist Party of China (CPC) released a policy statement on February in 2016, urging all CPC members to abide by the Party Constitution and Principles; they should fully implement the key speeches of President Xi Jinping; and, they should be qualified Party members whilst refraining from breaking rules.
Intellectual Property (IP)
This refers to creations of the mind, such as inventions; literary and artistic works; designs; and symbols, names and images used in commerce. It also involves proprietary intellectual property rights and diverse core technologies.
IP is protected in law by, for example, patents, copyright and trademarks, which enable people to earn recognition or financial benefit from their inventions or creations.
Brexit
Britain voted by 52 percent to 48 percent to leave the European Union in a referendum on June 23, 2016.
South China Sea
China recently successfully tested two new airfields on the Nansha Islands with civil flights, bringing the number of airfields open to civil aircraft in the archipelago to three.
AlphaGo
A computer program developed by Google DeepMind in London to play the board game Go. In March 2016, it beat South Korean Go player Lee Sedol in a five-game match. In recognition, AlphaGo was awarded an honorary 9-dan by the Korea Baduk Association.
Circuit Breaker
In the wake of last year's turbulence in the A-share market, authorities from the China Securities Regulatory Commission told the media that China's capital market must be regulated in a manner that is market-oriented and governed by law.
The regulatory chief admitted that the introduction of the circuit-breaker mechanism, which was designed to stabilize the market, had aggravated its decline. Some believed that the mechanism was scrapped by the commission in January after being in effect for just four days.
Artisanship
In recent years, China has invested in the exploration of artisanship, highlighting design and quality in its domestic brands.
Zika Virus
A mosquito-borne virus that the World Health Organization says is spreading rapidly in the Americas. It is an emerging disease posing grave risk to newborns and challenging health officials around the world.
Rainstorms and Floods
China's National Meteorological Center reported that many parts of the nation were severely battered by heavy rainstorms recently, with water logging in dozens of residential communities and many roads cut-off. Shortly after, the government carried out relief and reconstruction work in those regions.